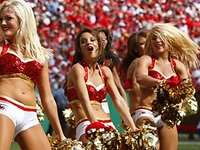 It's a showdown in the Show Me State, as the Kansas City Chiefs meet the St. Louis Rams in a preseason affair on Saturday. The football is scheduled to be kicked off in the Edward Jones Dome at 8:00ET.
Last week, the Chiefs enjoyed their exhibition opener against Arizona in a couple of different respects. First, they emerged victorious, 27-17, but more importantly for KC, running back Jamaal Charles made a successful return from an ACL injury he sustained early last year. Add to that, two other victims of ACL surgery, CB Eric Berry and TE Tony Moeaki also coming back with no apparent ill effects and it was quite a pleasant all around experience for the Chiefs. Start your NFL Preseason Wagering action on the New York Giants at SBG Global.
Matt Cassel should play behind center for most of the first half on Saturday before ex Notre Dame QB Brady Quinn makes an appearance. Watch for 1st round pick Dontarie Poe to make a difference on the defensive line. KC receiver Dwayne Bowe is yet to make an appearance at training camp.
Things didn't go nearly as well for the Rams in their first preseason affair versus the Indianapolis Colts. This was a matchup of the two worst NFL teams of 2011 and the Rams at least played up, or perhaps down to that billing. Check the NFL Football Preseason Odds for the Chiefs vs. Rams game
The NFL's overall number one draft pick, Andrew Luck, hurled a 68 yard touchdown pass against them on his first professional throw, and it went downhill from there in a 38-3 loss. Sam Bradford moved the team early, but couldn't sustain the offense. Look for Bradford to hook up with former Giants and Eagles receiver Steve Smith against Kansas City.
The Chiefs have won the last three regular season contests against the Rams. Kansas City has been installed as a 1 point road favorite if you are willing to lay $110 to win $100. Another wager of $110 will be required to play the over/under currently established at 36.5 total points.
Open an Account for the best Sportsbook Parlay and Vegas Teaser Payouts in the Industry.
Check the Game Podcast: