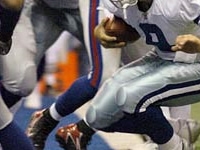 The Seattle Seahawks depart the Great Northwest and fly into middle America Friday night to face the Kansas City Chiefs in week three of the NFL preseason. The game will begin in Arrowhead Stadium at 8:00ET.
Seattle (2-0) plans on starting 3rd round draft selection, Russell Wilson at QB in this game which is normally the primary tuneup to the regular schedule. He performed well last week in the Seahawks' 30-10 victory over Denver. Matt Flynn and Tavaris Jackson are the other options as the Seattle signal caller. Top receiver Sidney Rice will make his 2012 debut in this one and Terrell Owens will continue his comeback attempt as well. Start your Football Preseason Gambling action on Seahawks vs. Chiefs Game.
Another receiver, Doug Baldwin remains out for Seattle. Kansas City (1-1) has a top receiver of their own returning to action on Friday, when Dwayne Bowe is expected to see limited action after finally signing a contract last week. The team didn't fare well last Saturday losing to St. Louis 31-17. Matt Cassel will start at QB for the Chiefs backed up by Brady Quinn.
The Seahawks are 4-0 all time versus the Chiefs in exhibition play. In regular season meetings since 2001, the Chiefs lead the series 3-2. Their last win over the Hawks came in November 2010 in Seattle, with a final score of 42-24. Check the Football Preseason Odds for the Seahawks vs. Chiefs Game.
Seattle is 2-0 SU on the preseason, and 1-0 SU on the road. They are 2-0 ATS, and 1-0 ATS in road games. The Chiefs are 1-1 SU, and 1-0 SU at home. They are 1-1 ATS, and 1-0 ATS in Kansas City.
Seattle is a 1.5 point road favorite on a $110/$100 moneyline. So far, they are 1-0 ATS when listed as the favorite. This will be the first game to feature the Chiefs as the underdog. The under/over of 42 total points is also available at a -$110.
Open an Account for the best Sportsbook Parlay and Vegas Teaser Payouts in the Industry.
Check the Game Podcast: