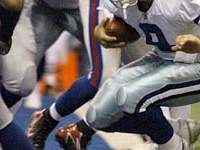 NFL Preseason betting: Saints vs. PatriotsTwo "New" teams meet in the 2012 NFL preseason on Thursday when the New Orleans Saints travel to New England to meet the Patriots. The first kickoff is scheduled to be booted at 7:30ET in Foxboro's Gillette Stadium.
This is actually the Saints' second preseason affair having already won the Hall of Fame game last week. It is also technically the second time these two teams will be facing each other in Gillette Stadium this year after a spirited practice session was held between them on Tuesday. Check the NFL Preseason Odds for the 2012 NFL Season.
Perhaps the highlight of the practice however, was the appearance of Tom Brady's wife, super model Giselle Bundschen, much to the delight of the 14,830 fans on hand. The two teams also share an unwanted distinction of being hit with severe penalties by the NFL of late. For the Pats it was the "spygate" episode and for the Saints last years "bounty" program.
Brees played one series in the HOF game, just long enough to lead a 77 yard touchdown drive on New Orleans first possesion. The Saints emerged victorious against the Arizona Cardinals in that one, 17-10.
New Orleans was 13-3 last year finishing atop the NFC South. That, of course, was under head coach Sean Payton, now serving a season long suspension due to the aforementioned bounty fiasco. Paytons assistant Joe Vitt takes the reins in 2012.
Look for Brees to play another series or maybe two before giving way to Chase Daniels. Mark Ingram, Pierre Thomas and Darren Sproles will see some time at running back with Chris Ivory and Jed Collins seeing lots of action. Fourth round receiver Nick Toon should play a fair share as well.
New England was also 13-3 in 2011 finishing first in the AFC East and advancing to the Superbowl, where they, of course, fell to the Giants. Their defense ranked 31st last year, but with Tom Brady at QB who needs defense? Start your NFL Preseason Betting action on the Green Bay Packers at SBG Global.
Brady will more than likely only appear in one series on Thursday, as Brees did in the Hall of Fame game. Much of the Pats throwing will be done by Brian Hoyer and especially Ryan Mallette. New WR's Brandon Lloyd and Donte Stallworth should see some time too. New England is a 3.5 point home favorite if you're willing to lay $110 to win $100. The same moneyline exists on the over/under of 38 points.
Open an Account for the best Sportsbook Parlay and Vegas Teaser Payouts in the Industry.
Check the Game Podcast: