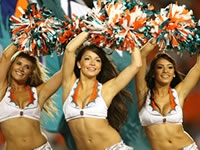 This is probably not the most exciting match up of week 15 unless you are a Titans fan. The Tennessee Titans are 7-6 and are still in the playoff hunt. In the AFC they are tied with the Oakland Raiders and the Cincinnati Bengals. All three teams are a game behind the New York Jets for the second wild card spot. The Titans need to win their last three games of the season and hope the Bengals, Raiders, and Jets fall short.
Sunday's game versus the Colts appears to be an easy one as the Colts have yet to win a game this season. Add to this the fact that the Titans beat the Colts easily last October and Titan fans can feel confident that their team's playoff hopes will be alive this time next week. Start your NFL Betting action on Tennessee Titans vs. Indianapolis Colts game.
The Indianapolis Colts have been beyond disappointing this year. Even with Peyton Manning out for the season, most football fans expected more from the team. They are currently ranked last in defense against scoring and their offense is ranked near the bottom. Their young quarterback, Curtis Painter, has shown some ability, but after thirteen games, it has become apparent that the colts have more problems than missing their starting quarterback. Check the NFL Lines for Tennessee Titans vs. Indianapolis Colts game.
The question as to who will win this game has an obvious answer; the Colts are most likely to be 0-14 on Monday morning. But the better question concerns the spread and whether it is a good bet. The above average Titans versus a terrible Colt team. The opening line was Titans -6.5. At the time of this article, this number is still holding at -6.5 at the online sportsbooks. Although the Titans are on the road, the Colts have no home field advantage having lost 13 games straight this season. The Titans will probably cover the spread, but the wager is strictly for the Titan fans.
Open an account for the best Sportsbook Parlay and Vegas Teaser Payouts in the Industry.