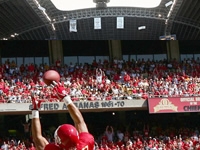 On Sunday afternoon, the Washington Redskins leave the nation's capital as they travel to New York to face the Giants. The game in MetLife Stadium in East Rutherford, NJ, is scheduled to begin at 1:00 PM ET, with regional covered to be provided by FOX.
The Redskins come into this game off an upset of the Minnesota Vikings, 38-26. With that win, the Skins ended an eight-game home losing streak. They held a 421-361 edge in total yards, including a 327-178 edge in passing yards. The Washington defense also forced 4 sacks, 2 interceptions, and a fumble from Minnesota. QB Robert Griffin III threw 17-of-22, for 182 yards, and 1 touchdown. He also ran for a 76-yard touchdown, the longest scoring run by a QB in 16 years. Start your Football Betting on Cowboys vs. Panthers Game.
The Giants are coming off of their own upset last week, over the San Francisco 49ers, 26-3. This game was all New York, as they shut down the San Fran offense, forcing 3 interceptions from Niners QB Alex Smith. The Giants offense held an edge in rushing yards at 149-80, while not turning the ball over. The 49ers scored a field goal in the first quarter, but were shut out the rest of the game, as the Giants racked up 2 touchdowns and 4 field goals. QB Eli Manning threw 15-of-28, for 193 yards, and a touchdown.
The Redskins are 3-3 ATS on the season so far, and 2-0 ATS as a road underdog. They are 6-2 ATS against opponents from the NFC East, and 1-5 ATS coming off of a SU win. The Giants are 6-0-1 ATS on the road, and 11-2-1 ATS overall recently. They are 3-3 ATS on the season, and 1-2 ATS as a home favorite. Check the NFL Betting Odds for Redskins vs. Giants Game.
These two teams have met 22 times since 2001, with the Giants leading the series 15-7. Their last meeting, in December 2011, resulted in a 23-10 Redskins victory. In that one, the Giants were 5 ½ point favorites. In a September 2011 matchup, Washington won 28-14, after New York was favored by 2 ½ points.
For this weekend's game, the Giants are 5 ½ point home favorites in the SBG Sportsbook pro football odds. The over/under is set at 49 ½ points.
Open an Account for the best Sportsbook Parlay and Vegas Teaser Payouts in the Industry.
Check the Game Podcast