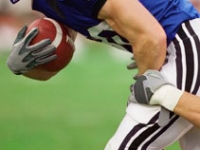 NFL Odds: Raiders vs. Ravens. This Sunday afternoon, the Oakland Raiders make the long cross-country tip to Baltimore to face the Ravens. The game in M&T Bank Stadium in Baltimore, MD, is scheduled to begin at 1:00 PM ET, with regional television coverage to be provided by CBS.
The Raiders come into this NFL Odds game after suffering a loss at home to the Tampa Bay Buccaneers, 42-32. While Oakland held a 25-23 edge in first downs, and a 402-237 edge in passing yards, they suffered a 515-424 deficit in total yards, and a 278-22 deficit in rushing yards. Two sacks and 9 penalties cost them nearly 100 yards, and they turned the ball over 3 times, all on interceptions. QB Carson Palmer threw 39-of-61, for 414 yards, and 4 touchdowns. Start your NFL Bets on Raiders vs. Ravens Game.
The Ravens are coming off of their sixth win on the season by defeating the Cleveland Browns, 25-15. The Browns held very slight edges in total yards at 290-282, and passing yards at 174-145. However, the Ravens held the edge in first downs at 18-17, and rushing yards at 137-116. The difference was turnovers, as Cleveland threw 2 interceptions, while Baltimore was able to protect the ball. QB Joe Flacco threw 15-of-24, for 153 yards, and 1 touchdown.
The underdog is 10-1 ATS in Oakland games, and 9-4 ATS in Baltimore games. The Raiders are 3-5 ATS on the season, and 2-1 ATS as an away underdog. The Ravens are 1-6 ATS recently. They are 3-5 ATS on the season, and 1-3 ATS as a home favorite. Check the Football betting Lines for Raiders vs. Ravens Game.
These two teams have met four times since 2001, with the Ravens winning 3 times to the Raiders' 1. Their last meeting, in January 2010, resulted in a 21-13 Ravens victory. In that one, Baltimore was a 10 ½ point favorite. In an October 2008 matchup, the Ravens won 29-10, in a game in which they were favored by 7 ½ points.
For this weekend's matchup, the Ravens are 7 ½ point home favorites in SBG's sportsbook. The over/under is set at 46 ½ points.
Open an Account for the best Sportsbook Parlay and Vegas Teaser Payouts in the Industry.
Check the Game Podcast