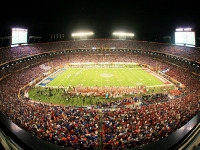 Panthers at Saints match-up is an interesting one for NFL fans and bettors. The Saints come into week 17 at 12-3. They have already wrapped up the third seed in the NFC, and the only way they can improve that seeding is if San Francisco loses to 2-13 St. Louis, which doesn't seem probable. Therefore, New Orleans may not play their starters for the entire game and there is the possibility quarterback Drew Brees will sit for most, if not all, of the game.
Of course whether or not Drew Brees and other New Orleans starters sit will have a big impact on the game. New Orleans is favored in the game by 8. These two teams last met on October 9th this season. Although it looked like the Panthers would eke out a win, Brees led the Saints to a game-winning touchdown with 50 seconds left and the Saints pulled out a 30-27 victory. Start your NFL Betting action on Panthers vs. Saints game.
Although the Panthers (6-9) don't have a chance at the playoffs this season, they have a lot to be excited about for
next season. Their rookie quarterback, Cam Newton, has set a rookie record for passing yards and an NFL record for rushing touchdowns by a quarterback. The Panthers have won four of their last five. Check the NFL Odds for Panthers vs. Saints game.
Even though the Saints may rest some players, this is an important game for the Panthers. They would love to finish
their season one game below .500, and with a win over their division rival Saints, in New Orleans. As they came within a touchdown (and one minute) from beating New Orleans earlier this year, it would seem that 8 points is a manageable spread for the Panthers to cover. The Saints have been hot lately, however, and are undefeated at home this season Thus, it will all come down to who ends up on the field for the Saints on Sunday, and who spends time resting for the playoffs.
Open an account for the best Sportsbook Parlay and Vegas Teaser Payouts in the Industry.