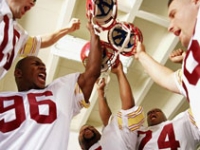 Week 16 of the NFL season sees the Miami Dolphins travel to New England to play the Patriots. A few weeks ago, this would have looked like a snoozer of a game, but a resurgent Dolphins team is going to give the Patriots all they want and more in this game.
Confident Teams – The Dolphins and Patriots come into this game with a lot of confidence. The Patriots are on the annual playoff run and are seeking to secure the number one seed in the AFC, which will give them home field advantage throughout the playoffs. To get it, they must win out to overtake the Pittsburg Steelers and potentially the Baltimore Ravens. Start your NFL Betting action on Miami Dolphins vs. New England Patriots game.
The Dolphins started the season with seven straight losses, but have turned things around with a 5-2 run. This team is loaded with a very good defense and an offense comprised of skill players who nobody else wanted. Players like running back Reggie Bush and quarterback Matt Moore are playing with chips the size of Mount Fuji on their shoulders and the team is benefitting. The Dolphins are a confident bunch and looking for a bit of revenge.
Matchup – The Patriots and Dolphins actually met in Miami in the first game of the 2011 season. New England won 38-24 in a game that wasn't that close and Tom Brady threw for more than 500 yards. Don't expect a repeat of that game. The teams come into this game having evolved significantly over the last 16 weeks. The Dolphins defense has become one of the best in the league, although few realize it because of their record. In turn, the Patriots defense has become one of the worst although it has improved a bit in the last few games. Check the NFL Odds for Miami Dolphins vs. New England Patriots game.
On offense, the Patriots are still lethal. Tom Brady is playing like, well, Tom Brady. Nobody is going to shut down the Patriots, but the Dolphins defense is good enough to slow them down. This could be just enough for the Dolphins offense, which has been showing serious life in the last half of the season having scored more than 30 points in four of their last six games.
Will it be enough for the Dolphins to pull the upset? The odds makers don't think so having posted New England as a 10.5 point favorite. Personally, I like the Dolphins in this one and certainly to cover the spread.

Open an account for the best Sportsbook Parlay and Vegas Teaser Payouts in the Industry.