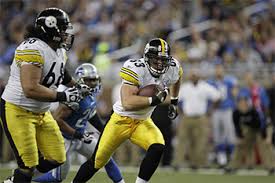 If you Bet on NFL, check with your online sports for the opening line on this early NFL football game with two NFC North rivals, the 1st of which is the Detroit LIONS (6-3, 3-1 1st NFC North) visiting the Pittsburgh STEELERS (3-6, 1-1 4th NFC North) with the kick-off scheduled for 1PM with the game being played at Heinz Field in Pittsburgh, Pennsylvannia.
It appears now at the Sportsbook, that the Lions are favored at -1 and that would indicate the experts think this rivalry will have a close outcome. The Lions in their last outing which was last Sunday when they beat the Chicago Bears 21-19 with the game being won with a TD pass from QB Stafford of 14 yards to WR Johnson with 2.22 left in the game as they beat another NFC North rival. Also Johnson has his 9th TD of the season and 63rd of his career which set a record for the Lions. The Bears QB Cutler returning from an injury looked good as he threw for 250 yards and a touchdown but left the game late in the 4th and was replaced by McCown. The chosen players of the game were both Wide Recievers with Marshall of the Bears having 7 receptions for 139 yards and 2 touchdowns and Johnson for the lions also scoring 2 TD's with 6 receptions for 83 yards.
The Steelers in their last outing which was also last Sunday the 10th of November beat the Buffalo Bills 23-10 and it was a defensive day for Pittsburgh as they spent most of the game making rookie QB Manuel for the Bills who had just returned from injury leave, look like a rookie. Also the defense limited the Bills rushing game to just 95 yards which was some 50 yards below their season average. That was welcomed as the Steelers defense had not been playing up to par in other recent games. Remember it was only the previous week that the Pittsburgh got romped by the Patriots 55-31. Steelers QB Roethlisberger threw for 204 yards on 18 of 30 and one TD and had one interception in the game.
If the Steelers are to win this game at home, their defense will have to play like they did against the Bills and their QB will have to be more accurate in his passing game and they will need to step up their offensive rushing game. Good Luck to both of these NFC North teams.