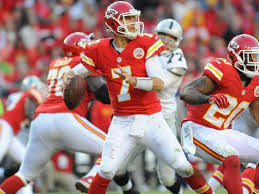 The fans who Bet on NFL football at an Online Sportbook if they check with SBG Global they will find the early wagering line for this early Sunday NFL football game between two AFC West rivals the San Diego CHARGERS (4-6, 0-2 4th AFC West) visiting the Kansas City CHIEFS ( 9-1, 1-1 2nd AFC West) with the kick-off time set for 1:00pm ET and the game is played at Arrowhead Stadium in Kansas City, Missouri. The early line as expected has the Chiefs the favorite at -5 with the Total for the game at 41 ½ and the Money Line on the chiefs is -235 with the comeback for the Chargers +195!
The visiting Chargers last Sunday the 17th of November lost a tough one to the Miami Dolphins 20-16 and the game was played in Miami and the game was not final until the last play of the game as a Miami defensive player knocked the ball away in the end zone, from the Chargers receiver, who otherwise would have scored and given the Chargers the win instead of the Dolphins. The scoring was somewhat different in this game in that the Chargers had 2 TD's and 3 Field Goals while the Dolphins had 2 TD's and 2 Field Goals! The Dolphins QB Tannehill was 22-35 passing for some 268 yards and one TD to WR Clay, and RB Clay scored the second TD for Miami. The Chargers QB Rivers passed for 298 yards completing 22 of 34 attempts and one TD to WR Gates. A major factor in this loss for the Chargers was that had some 10 penalties that accounted for 76 yards with two of those costing 11 points in the first half of the game, and as QB Rivers said that's hard to overcome.
As sure as you Bet on NFL we're sure, not too many football fans missed the last game the Chiefs played against the Broncos on Monday, November 18 which they lost playing at mile high city 27-17. These two meet again in two weeks and Denver will meet the Patriots next week for another showdown between Manning and Brady. The Broncos QB Manning threw for some 323 yards and 1 TD in the game while the Chiefs QB Smith was 21 of 45 attempts for some 230 yards A critical series in the game was when Manning gave a handoff to RB Sherman who fumbled and the Chiefs LB Johnson grabbed the fumble and Manning tripped him out to stop the play, then on the very next play the Saints fumbled, the Broncos recovered, and went on to score which put Denver ahead 10-0 in the 1st quarter.
The game Sunday with the Chargers should be very interesting with a lot at stake for both teams. Good Luch Chargers and Chiefs!