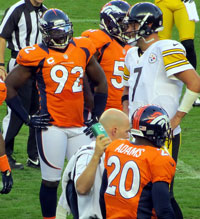 With the 2015-16 NFL Regular Season moving on into Week #4 and we are previewing a very interesting match-up between the Vikings of Minnesota 2-1of the NFC –North playing the Denver Broncos 3-0 of the NFC West with the game being played on Sunday the 4th of October 2015 with kick-off scheduled for 4:30 PM ET and being played at the Sports Authority Field at Mile High in Denver, Colorado.
The opening odds for those that Bet on NFL football at SBG sportsbook, they have the undefeated Broncos favored at -6 ½ with the Over/under at 43 ½ and -275 on the Money Line, while the underdog Vikings are at +6 ½ and +235 on the ML.
The Bronco won their season opener at home and then won 2 road games and return home for this game with Minnesota and star RB A. Peterson and a sizzling match-up! The Vikings lost their 1st game on the road, and then won the next 2 games at home!
If you a Vikings of Minnesota fan, surely you're aware that the Vikings star RB Peterson has been performing well, as this past Sunday he ran by the Chargers defense for 2 TD's and had 20 carries for some 127 yards. That second TD was a 43 yard run for the score as Minnesota beat San Diego 31-14.
He should be able to continue rushing well since the Broncos defense has allowed opposing teams some 110 rushing yards in each of their 1st 3 games. In the Broncos 2nd game they allowed Chiefs star RB J. Charles and the Chiefs 147 yards on the rush that scored 2 TD's.
If the Vikings QB T. Bridgewater has a good game the Vikings with RB Peterson on the run, could have an advantage in this game. In his 1st 3 games he has passed for some 506 yards for 1 TD and was intercepted 2 times. Against the Broncos he task will not be easy as their defense has some 6 intercepts in this 2015 season, which ranks 2nd in the NFL to date.
Minnesota could win this game upsetting the Broncos on the road, but to do so, they will need another pass rush defense like they displayed against San Diego, as the Vikings defense had 2 sacks led by DE E. Griffen with 2 and DT's Johnson, Floyd and LB Barr each had 1 sack. Their pass defense should fare well against the Broncos QB P. Manning who has been sacked 8 times in their 1st 3 games to date. To date Minnesota in their ultimate 8 road games have lost 2.
However, if you're a fan of the Broncos of Denver, your QB P. Manning came to life and had a great game in Week 3, as he passed for 2 TD's on 325 yards passing and had 1 interception. A big play was with 5 seconds remaining in the 1st half, he completed a pass to receiver D. Thomas for 45 yards and a TD, and Denver took the lead and stayed in the lead for the rest of the game.
The Broncos now 3-0 have not done that since back in 2013 when they went to the Super Bowl led by future HOF QB P. Manning. QB Manning is slowly but surely adjusting to the new offense of Broncos new Coach G. Kubiak. In the 1st 2 games Manning was sacked some 7 times, and in the last Sunday game he was sacked once. He also has had the help of 2 top notch receivers in D. Thomas and E. Sanders who in that 3rd game with Detroit they combine for 15 receptions and 179 yards.
However, the strength of this Broncos team goes back to the defense, and they were strong in Week 3 as the brought about a fumble recovery, had 2 interceptions and forced 3 turnovers. Their pass rushing defense sacked the Lions QB M. Stafford some 3 times in the game, led by LB D. Ware who to date has 4 sacks in 2015.
The Broncos strong secondary and a good pass rush has allowed Denver to lead the NFL for pass defense as they have allowed opponents only 176.3 yards each game this season. To date they have only allowed 1 TD via the pass, while having 6 interceptions in their 1st 3 games. That defense should allow the Broncos to concentrate on the running game of the Vikings and to slow down star RB Peterson in this game. You should know that your Broncos in their ultimate 10 home games have won 9.
In this game it's predicted the Broncos will win and now be 4 and 0!