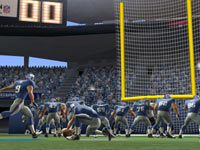 The minicamps that most teams are doing this time of year can be a great way for players to make a good first impression on their coaches, NFL betting enthusiast know that is on these stages of the preseason were secret weapons are discovered. A good performance on a mini camp could very well mean the launching pad to a great season. It has happened in the past, it will be no surprise if it happens this year. Hard working, dedicated players, can emerge from obscurity and jump into the limelight. Here are some of the players who are showing a lot of promising potential.
Reports coming from the Kansas City Chiefs camp are stating that quarterback Tyler Bray, is on a mission to be included in the Chief's rotation. Once a sought after prospect from the University of Tennessee, Bray reached the league and was stuck in a bit of a slump. However, recent reports have indicated that Bray's talents are still there and he is giving Coach Reid something to think about when selecting the Quarterback rotation for next season.
Following a disappointing two years as a professional, wide receiver Brian Quick of the St. Louis Rams is expected to explode as a regular on the Rams' formation. His physical form on the OTAs has offensive coordinator BrianSchottenheimer, who has called him "the most improved player I've seen". Now considering that the Rams did not draft any wide receiver this year will open up Quick's chances to show football betting fans his worth this season.
Football Betting fans have come to expect a lackluster performance from the Dolphins. But amongst the confusion of trying to set a team that will compete this season, they have found excellent performances from linebacker Koa Misi. Miami's defensive coordinator Kevin Coyle, has given Misi a more leading role on defense, assigning him a whole new set of responsibilities as he is now a middle linebacker. According to reports coming from the Dolphins' camp, Misi will be a player that will make heads turn.
Finally, out of Jacksonville, the sport press are really being optimistic when it comes to the progress shown by Dwayne Gratz. Early reports from the Jaguars' camp are informing of how the coaching staff of the Jaguars are pleased with how Gratz is starting to live up to the potential he was showing before his disappointing rookie season last year. Experts have said that if Gratz reaches the level that he had during his college years, he might be catapulted to a starting position for the Jaguars.