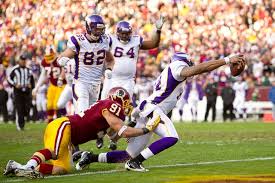 For the Offshore Betting fans this weeks NFL Thursday night game brings together the Washington REDSKINS (4-5, 3rd NFC East) visiting the Minnesota VIKINGS (1-8, 4th NFC North) with kickoff set for 8:25pm ET and the game being played at the Mall of America Field in Minneapolis, Minnesota.

The Redskins are coming off a very close game with the San Diego Chargers this past Sunday as won the game in the 1st Overtime 30-24 with RB Young scored in OT his 3TD of the Game. If you're a fan who likes to Bet on NFL football the Redskins are a team that presently has improved their running game and the passing game against the chargers showed some marked improvement. In this had the opportunity in regulation time to win this game but were unable to get a much needed one yard game thus the game went to Overtime.

Meanwhile this past Sunday the Vikings lost a heart breaker in the last seconds of the game as the Dallas Cowboys scored to win 27-23 as QB Romo threw for 2 TD's and had a total of 337 yards passing for the day. Dallas had a troubling loss to Detroit the week before and they were very pleased to win this one. Vikings QB Ponder threw for a TD and ran for a TD and 29 yards rushing for the game while RB Peterson had 25 carries for a total of 140 yards and 1 TD. At the NFL Sportsbook the stats in this game were very similar in that the Vikings had 221st downs (8 rushing and 13 passing), while Dallas had 19 1st downs (16 passing and 3 rushing) with and each team had a first down as the result of a penalty in their favor.

If the Redskins are to beat the Vikings in Minnesota their QB Griffin will need to have a very consistent game as he displayed in the last game with San Diego, because in previous games he somewhat inconsistent. This is his 2nd season in the NFL and expectation of the fans is increasing weekly.

For the Vikings and fans it appears that their QB controversy is still uncertain as to who will be the starter for this Week 10 game with the Redskins at their Minnesota homeland. Regardless who starts at QB it's the Vikings goal to win their remaining games as this is the worst start in franchise history! Good Luck Vikes and Skins Thursday night.