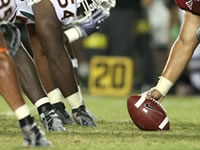 The game of the week in the NFL is the Monday night affair where the Atlanta Falcons travel to play the New Orleans Saints in an epic match up of division rivals. Although the Falcons have little chance of catching the Saints for the division crown, both teams have a lot to play for in this one in addition to their basic hatred for each other.


Motivation – At 11-3, the Saints have outpaced the 9-5 Falcons to the point where the Saints pretty much have things wrapped up.But even if the teams were winless, it would still be a good game. Fortunately, both teams are winning a lot and are actually high motivated for this one because of the playoff implications. The Falcons are in excellent position in the wild card race, but they need to wrap it up. A win pretty much does that. The Saints, in turn, are trying to overtake the San Francisco 49ers for the second seed in the NFC, a seed that would give them a home game against every team in the playoffs except the Green Bay Packers. Start your Football betting action on Atlanta Falcons vs. New Orleans Saints game.
Streaking – Both teams come into the game streaking. The Falcons have won 4 of 5 and the Saints have taken 6 straight. The offenses of both teams are clicking and the defenses have shown vast improvement. The question is how do you figure out who will win this game? The answer is simple. The NFL is set up as a quarterback league and that will decide this game. Check the Football Odds for Atlanta Falcons vs. New Orleans Saints game.
The Falcons have a very good quarterback in Matt Ryan, but the Saints have the god-like Drew Brees. Brees should break Dan Marino's record for yards in a season in this game, a record few thought could be broken. Ryan will give the Saints all they can handle, but Brees and the Saints will not be beaten in New Orleans on a nationally telecasted Monday Night game. Odds makers have made the Saints a 6.5 point favorite. That sounds just about right.
Open an account for the best Sportsbook Parlay and Vegas Teaser Payouts in the Industry.