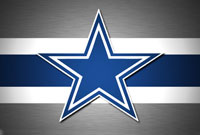 A three-pronged attack consisting of QB Tony Romo, wide receiver Dez Bryant, and rookie running back Ezekiel Elliot has already improved the Dallas Cowboys' NFL betting odds, especially when compared to last season when they lost Romo and Bryant to injury and finished with a 4-12 record – the franchise's worst record since 1989 (the very first year of Jerry Jones's ownership) when they finished 1-5.
Dallas Cowboys odds for fans who bet on football:
Odds to win NFC East: +185
Odds to win NFC Championship: +1090
Odds to win Super Bowl 51: +2400
While this iteration of the Cowboys will easily – barring any unforeseen event – surpass the 2015 version, Jones has said that this year's offense will be even better than in 2014. Back them Dallas ranked 5th in the NFL in points scored with 467 and 7th in yards produced with 6138. However, the offensive output took a nosedive in 2015 when Tony Romo injured his collarbone in week 2 – and then re-injured it in week 12. Romo was replaced by backup to the stars Matt Cassel, who lost six of the seven games he started. Also in week 2, Bryant suffered a broken foot and was out six weeks. These two injuries were in no small part responsible for the Cowboys scoring only 275 in 2015, compared to the aforementioned 467 in 2014.
Now that that football's best offensive line is back together and in good health, Dallas is bound to return to the playoffs this season. But what NFL betting fans would like to know is whether it will come close to replicating the legendary Triplets offense that won consecutive Super Bowls in 1992 and 1993. As Jones said, "Whether (the Cowboy's offense) approaches (Troy) Aikman, Emmitt (Smith) and Michael Irvin and that group or not, we'll see. As it turns out, the 2016 Cowboys have a pretty good chance of matching and surpassing that early 90's offensive unit, but their odds of generally improving on that team are rather slim.
Why is that? Mainly because those Jimmy Johnson-led Cowboys were as good on defense as they were on offense. The '92 team ranked 5th in the league in points allowed and 1st in yards allowed. Meanwhile, the '93 team ranked 2nd in points allowed and 10th in yards allowed. Compare that to the 2014 Cowboys, which ranked 15th in points allowed and 19th in yards allowed. Now consider that as a result of suspensions, injuries, and roster turnover, the 2016 Cowboys won't be as good on defense as the 2014 – though once again looking at the silver lining, they won't be as awful as last year, either. All things considered, NFL betting fans who follow the Cowboys should be thankful that they had such a terrible last season, as it put them in a position to select Smith as the 4th pick of the first round of the 2016 draft – arguably the most exciting young player to arrive in Dallas since maybe Deion Sanders.