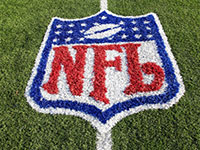 Super Bowl XLIX will be played at the University of Phoenix Stadium in Glendale, Arizona. The reigning Super Bowl champion Seattle Seahawks take on the New England Patriots in a game that is now titled the "Duel in the Desert."
This is the second straight year the NFL's Super Bowl has matched up the top seeds in the NFL, with Seattle representing the NFC and New England representing the AFC with the game kicking off at 6:35 PM ET on Sunday the 1st of February 2015. This will be the Patriots eighth trip to a Super Bowl in which they are 3-4 and the Seattle appearing in their third Super Bowl game and are 1-1.
Both teams have some mind boggling statistics and here's Seattle's.
As winners vs. winners: QB Wilson in his career in 10-0 against QB's that have won Super Bowls. He is 3-0 against Green Bay QB Rodgers, 2-0 versus Giants QB Manning, 2-0 against Broncos QB Manning, 2-0 versus Saints QB Brees, 1-0 against the Patriots QB Brady and he hopes to make it 11-0 against Patriots and QB Brady in this duel in the desert.
The Seattle Seahawks are Riding High; The reigning champions came into the playoffs having a 6 game win streak, and the last team to win the Super Bowl that had a 5 game win streak or more entering the playoffs were the New England Patriots back in 2003 who had a 12 game win streak going into postseason play.
It's all about the Seattle Defense; Once again Seattle enters this Super Bowl with the NFL's best defense, as they ranked 1st in points allowed per game at 15.9, then 1st in yards allowed per game to opponents at 267.1 and 3rd in rushing defense allowing just 81.5 yards per game, and 1st in passing yards at 185.6 allowed per game.
Now for the New England Patriots mind-blowing statistics.
The Patriots dynamic partnership: As Coach Belichick and QB Brady together have a 180-55 record, and without QB Brady, Belichick is 52.63. The other QB's before Brady had started in New England and Cleveland. They were some well know names that included Cassel, Bledsoe, Testaverde, Kosar, Tomczak, Philcox, Zeir and Rypien.
Look out Joe and her comes QB Brady: That's because QB Brady has some 7 postseason games where he had at least 3 TD passes, which is 2nd most in postseason NFL history, and only trails QB Joe Montana of 49ers fame, as he had 9 postseason game with at least 3 TD passes.
The some interesting coaching facts; Patriots Coach Belichick is only the 3rd coach to face his predecessor in a Super Bowl, as Pete Carroll of the Seahawks was the Patriots coach just prior to Belichick. Back in Super Bowl XXXVII Coach Gruden of Tampa Bay played the Raiders who were coached by Gruden's former assistant when he coached the Raiders. Then in Super Bowl III the Jets Coach Ewbank played his former team Baltimore and former assistant Don Shula.
Then we have the Seattle Seahawks leading men.
RB for Seahawks Marshawn Lynch – Lynch has had a great year rushing for 1,000 yards or more, and 10 touchdowns for the 4th straight season, and let the NFL with touchdowns at 17. In the last NFC title game he scored 1 TD and rushed for 157 yards in their win over Green Bay. Nicknamed "Beastmode," watch him as he could be a game factor in the XLIX Super Bowl.
QB Russell Wilson has had a great career since joining Seattle, with his 36-12 record, which in the NFL that's a record for a QB during their 1st three NFL seasons. He and Flacco of the Ravens are the only 2 NFL QB players in history that started and won a playoff game in their first 3 seasons in the NFL.
Seahawks Coach Pete Carroll hopes to become the 7th NFL coach to take a NFL team to straight Super Bowl titles 2 years in a row, joining the Packers Lombardi, Dolphins Shula, Steelers Noll, Cowboys Johnson, Broncos Shanahan and Patriots Belichick.
Then we have the New England Patriots leading men.
Patriots QB Tom Brady whom is seeking to join 49'ers idol Joe Montana winning a Super Bowl ring for the 4th time. QB Brady is 20-8 in games in the postseason, then 3-2 in Super Bowl games. He presently holds the NFL record 28, for the most postseason starts by a QB, most postseason wins 20, and most passes for touchdowns at 49 and holding.
New England Tight End Rob Gronkowski, who was hindered with injuries in 2012 and 2013, returned to Pro Bowl form this 2014 with some 12 touchdowns on 82 receptions during regular season games. He holds the record for the NFL for tight ends, with more receptions for touchdowns in his 1st five seasons in NFL history at 55 touchdowns.
Is the Patriots Coach Bill Belichick who is now appearing in his 6th Super Bowl as the Head coach of New England with a 3-2 records. He took over the coaching helm back in 2000 and the Patriots under his leadership are 176-65. He had become the NFL coach with the most winnings in NFL postseason history topping previous Dallas coach Tom Landry by one win as now Belichick has 21 wins and Landry had 20.
If you bet on the Super Bowl at SBG Global this should be some real interesting information for you to devour and see if it give you any insight as to how you may wager in this Super Bowl XLIX.