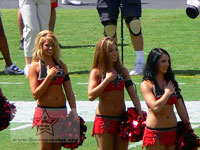 With the 2015-16 NFL Season well underway and moving into Week 5 we have an interesting game between NFL state rivals as the Jaguars of Jacksonville take on the Buccaneers of Tampa Bay with the game being played at the Raymond James Stadium in Tampa, Florida on Sunday the 11th of October 2015 with kick-off scheduled for 1 PM ET and can be seen on CBS TV.
The opening betting odds at SBG sportsbook for those that Bet on NFL have the Buccaneers of Tampa Bay favored at -3 -105 with the Over/under 42 and -155 on the Money Line, while the underdog Jaguars of Jacksonville are +3 -115 and +135 on Money Line.
This game in Week 5 brings together to teams from Florida that both need a win. The Jaguars in their 1st 4 games are just 1-3 and the Buccaneers of Tampa Bay are also only 1-3. Thus we ask who of these 2 teams on the struggle will be victorious Sunday.
For the fans of the Jaguars of Jacksonville your team had a tough defeat when their FG kicker J. Myers missed the 52 yard kick with 6 seconds left in the game that would have won the game in regular time, instead the Jaguars lost to the Colts 16-13. What was amazing he got a second chance as the Colts called time out, so he got another chance, but also missed wide left on his 2nd attempt, and also missed in overtime? Thus the Colts getting good field position moved ahead for 52 yards and won the game with a FG.
This loss was exception as the Jaguars key players on offense had a great game. QB B. Bortles passed for 1 TD and completed 28 of his 50 pass attempts for some 299 yards without an intercept and was sacked just once in the game. RB T. Yeldon their rookie carried for 22 times gaining 106 yards and WR A. Hurns had 11 receptions for 115 yards and 1 TD.
The same 3 could have a great game against the struggling Tampa Bay defense who to date has allowed some 29.3 points each game, and have struggle more so against the run allowing opponents some 136.7 yards each game which ranks 30th in the NFL.
Likewise the Buccaneers defense against the pass has been vulnerable as the allowed some 8 TD's via the pass in their 1st 4 games. Thus the players we just mention for the Jaguars just might have scores in this game. Jacksonville can do well if they can maintain a rush against, as in past games they played well in that regard as they had 9 sacks in their 1st 4 games of 2015. The Jaguars in their ultimate 4 games on the road are 3 and 1 against the spread.
If you happen to be a fan of the Buccaneers of Tampa Bay, it's likely you would like to see a win in this game after a defeat last week to the Panthers of Carolina 47-23, and your team has registered some 11 consecutive home game losses, and 10 are attributed to Coach Smith.
The Tampa Bay rookies had a tough game against Carolina as rookie FG kicker K. Brindza missed 2 FG's and an extra point in the game, while QB J. Winston struggle as he was intercepted 4 times of which 2 went for TD's and was sacked 2 times as well in that game.
But don't be too quick to give up on QB Winston, because even as he struggled he still threw for some 288 yards and 2 TD's, 1 to C. Sims and 1 to V. Jackson. He has a strong arm that he will test against the Jaguars pass defense that has given up some 279 yards to their opponents on average in their 1st 4 games.
The Buccaneers hope to draw attention away from QB Winston as they run the ball with RB D. Martin who against Carolina carried the ball some 20 times for 108 yards and 1 TD, which averages 5.2 yards on each carry in the game. However, don't forget the Jaguars have performed well against the run, as they allowed only 3 yard per carry to the opponents offense. The Buccaneers in their Ultimate 8 game with AFC South opponents are 0 and 8 against the spread.
The prediction for this Florida rivalry game will see the Jaguars give the Buccaneers another defeat as they cover in a road game.