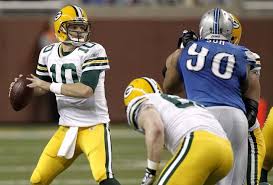 This Thanksgiving day in the United States the sports fans who love to Bet on NFL and may use the sportbook at SBG Global have a great annual Turkey Day Game rivalry between the Green Bay PACKERS (5-5-1, 2-1-1 3rd NFC North) visiting the Detroit LIONS (6-5, 3-1 1st NFC North) with scheduled kick off at 12:30 pm ET at the Ford Field in Detroit, Michigan with the weatherman forecasting Cold-30 degrees F, partially cloudy with winds of 7.8 mph/SW.
This past Sunday the Packers came home with their 1st tie of the season as they ended their game with the Vikings in Overtime 26-26 as both teams were only capable of coming up with a field goal apiece in OT. That has been the 1st tie game in the NFL since back in 2012 when the Rams and 49'ers tied 24-24! Some 77,000 fans in Green Bay Wisconsin witnessed in cold weather the first game that has ended in a tie under last year new overtime rule. The workhorse for the Vikings carried the ball 32 times for 146 yards had given the Packers a difficult time in OT but they still could not get a TD.
But things could have ended in a worse fashion had the Packers lost the game in place of the tie. Both QB's in the game were on the same statistics page as Ponder for the Vikes was 21 of 30 for 233 yards with 1 TD, and Flynn for the Pack was 21 of 36 for 216 yards and 1 TD. The Packers made a great comeback as they were trailing in the game 23-7 at the start of the 4th quarter and then the Packers QB Flynn got the team moving and came back for a tie in regulation time.
The Detroit Lions for the Bet on NFL fans are somewhat concerning for them as the team lost another close game this past Sunday to their born again Tampa Bay Buccaneers 24-21 are trying to turn themselves around with the help of a rookie quarterback who keeps his cool and a defense that won't quit. Detroit struggled in the game as their B Stafford was intercepted 4 and the last one went in and out of his receiver Johnson's hands inside the Bucs five yard line to end the game. Regardless of this loss the Lions will be ready for the Packers on Turkey Day so get ready for an exciting game in Detroit! Good Luck Packers and Lions!