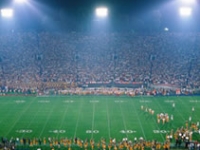 This is a game that is only of interest to those who are a fan of one or the other team, unless of course you have a few dollars on the game. The Buffalo Bills are 5-8 going into this game and that is one game better than the Miami Dolphins who are 4-9. Both teams have had disappointing seasons and are now looking to next year.
The Bills started off winning five out of their first seven games and were getting Buffalo fans excited. However, they lost their next six games in a row. They are looking to end their losing streak against the Miami Dolphins. Start your NFL Betting action on Miami Dolphins vs. Buffalo Bills game.
The Dolphin's season has been the opposite of the Bills. Miami started very slow and never was a contender. They lost their first seven games and had no chance in 2011. But their last six games they have gone 4-2, and their last game against the Eagles, was a game they defeated themselves on turnovers; Miami should have won the game. If you look only at the last six games of both teams, you have a 4-2 team playing an 0-6 team and the match up would seem to be lopsided. But don't get too excited, the Dolphins make a lot of mistakes and are not a dependable team to bet on. NFL odds for Miami Dolphins vs. Buffalo Bills game.
The opening line was Miami -1.5, but the sportsbook now has Buffalo as the -1 point favorite. Clearly nobody knows what to think of this game. But when two teams with poor records meet at this time of the season, you need only look at their recent form. In a game where either team could win, the check mark for recent performance goes to the Dolphins. In all likelihood both teams will make mistakes that would cost them against better competition, but in this game it will only be frustrating to the fan and the bettor. Don't make any serious wagers on this game and have fun.

Open an account for the best Sportsbook Parlay and Vegas Teaser Payouts in the Industry.