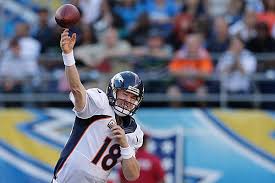 At SBG Global and for the NFL football fans who Bet on NFL we have another great matchup of two top NFL-AFC teams as this Sunday night November 24th with kick-off at 8:30PM we have the Denver BRONCOS (9-1, 3-0 Tied for 1st AFC West) visiting the New England PATRIOTS (7-3, 3-1 1st AFC East) and the game is played at Gillette Stadium in Foxborough, Massachussets with weather forecasts calling for Cloudy, Chilly weather at 35 with win at 22 mph/NW.
For the Offshore Betting clan, who thrive to Bet on NFL the opening lines for this game are favoring the Broncos at -2 ½ (-115) and the Over/Under opens at 55 and they are -135 on the Money Line.
In the Broncos last game this past Sunday night at home they beat their arch rival Kansas City Chiefs who were undefeated and in first place in the AFC West and after the loss they are now tied for 1st with Denver, and they play again on Dec.1st. In this game Broncos QB Manning went 24 of 40 in his passing game for some 323 yards with one being a TD on a catch by Thomas. RB Ball had two rushing TD's for the Broncos. The Chiefs QB Smith threw for two TD's and some 230 yards. In this game the Chiefs scored 10 in the 1st half and 7 in the fourth quarter for their total of 17 points, while the Broncos scored 17 in the 1st and 10 in the 2nd half for their winning 27 points. The Broncos defense in this game looked good, especially Shaun Phillips who made 10 tackles, 1 ½ sacks, 2 QB hits and 2 pass deflections.
The Patriots are coming off a difficult loss to the Carolina Panthers 24-20 as Panthers QB Newton threw for a 25 yard TD pass to Ted Ginn Jr. with 59. Then Patriots had an opportunity to win as Patriots QB Brady moved his team to the Carolina 18 with 3 seconds in the, game and on the next play fired a pass into the end zone as time expired and Panthers safety Lester intercepted the pass. An Official threw a flag in the end zone for pass interference, as the officials gathered then waved off the flag and the game was over with no further discussion. Naturally the Patriots fans went berserk.
This game with the Patriots and the Broncos at Gillette stadium may be another barn burner as they say, and should be a great game for all football fans. Good Luck Broncos and Pats!