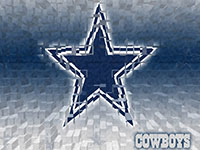 As we prepare for the NFL 2014 Football season, the Dallas Cowboys have "State of the Team" new conference with owner Jerry Jones speaking at their training camp in Oxnard, California this past Wednesday, July 23rd, 2014.
He stated that Cowboys coach Jason Garrett is not coaching for his job since Jones does not like repeating his own statements, thus he found a new way to express Coach Garrett. Continuing, he said that 2014 was not a make or break season for Garrett even if the Cowboys, once a top NFL franchise missed the playoffs again.
In the past three NFL seasons, the Cowboys under the direction of Coach Garrett have the same identical finishes losing to NFC East opponents and ending those seasons at 8 and 8. The only difference this year is that Garrett is coaching in his final year of his contract. However, owner Jones feels that in each of those 8 and 8 seasons Garrett has actually gained valuable experience since he replace Wade Phillips in the middle of the season 2010. He also stated that his relationship with Garrett and his feeling for Jones is than he has had with previous coaches. Thus, from the tone of Jones statements, he is not anticipating missing any more NFL playoffs for what would be a fifth straight season.
The Dallas Cowboys have not had that stretch of losses dating back to 1990 and that was when Jones was only in his second year as the owner of the Dallas franchise, and the team came off a two-year losing streak of 4 wins and 28 losses. He pointed out to the news media that over half of the 90-man roster at this 2014 training camp was not with the Cowboys a year ago. Thus, the team has changed its image from one of the oldest teams in the league to one of the youngest. In this training camp roster of some 90 players the Cowboys will be seeking a sacks leader, a middle linebacker and to improve their defense which in the last two NFL seasons was wrecked through team injuries. Thus, during this training camp they will also strive to keep their key player healthy and injury free to start the NFL regular season.
A particular area where Coach Garret wants to improve, is how he can better evaluate our players, what we seek of them and what we ask, and how can we perform better. Saying things like the coverage's the play, how we are using are up-front guys, and the different techniques and schemes we use at the different levels of the defense. That is the kind of things they want to implement in this offseason training camp. All this comes about as Garrett is seeking to break away from his 8 and 8 rut and move on to the NFC Playoffs. With that said the Cowboy fans who Bet on NFL using an online sportsbook should feel enticed to review the preseason odds for the Cowboys upcoming games.