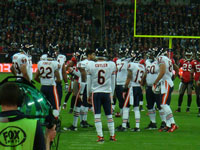 The 2015 Chicago Bears have not been up to much this season. In fact, the Bears have +10000 odds to win the Super Bowl. Their third game of the season also has some extremely difficult odds for the team to go through as they are listed at +13 in their game in Seattle.
New coach John Fox had been pegged to potentially help the Bears get back to the top. Fox had experience with both Carolina and Denver and is looking to try and improve the Bears but it might take a little while for him to do this. This comes especially as quarterback Jay Cutler has been injured with Jimmy Clausen coming in to replace him for the foreseeable future.
The Bears' defense is considered to be a major problem that is keeping them from being stronger. The Bears have given up thirty or more points in both their games so far in 2015. In fact, the Bears have given up more than 400 points in the last two seasons. Their 442 points from 2014 was the second-worst total for defense in the NFL. The 478 points from the year before that was the third-worst total in the league. This is a far cry from the days when the Bears' defense was one of the most feared groups in the league.
Running back Matt Forte has tapered off in production in recent time. While he had more than 1,300 rushing yards back in 2013, his totals have gone down as he is getting close to less than a yard per carry on average. This could be a tough season for a player who has been a staple of the Bears' offense over the last few years.
The injury to star wide receiver Alshon Jeffrey isn't going to help the Bears all that much either. Eddie Royal was brought in to the Bears from San Diego this offseason but the inefficiency at quarterback has only hurt his statistics, thus putting him at risk of not being able to get 800 or more receiving yards to go past his total from last year.
It is obviously too early in the season to think about if the Chicago Bears could actually struggle badly enough to the point where they would actually get the top pick in the 2016 draft. However, depending on what happens, the Bears may want to think about whether or not Michigan State's Connor Cook could be an appealing quarterback for the team to go after.