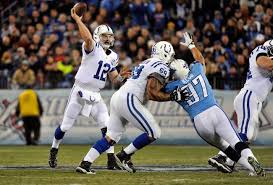 Fans who love to Bet on NFL at a Sportsbook, get an early start in Week #11 as the early game this coming Thursday November 14th, 2013 is division match up with the Indianapolis COLTS (6-2, 2-0 1st AFC South) visiting the Tennessee TITANS (4-4, 0-1 2nd AFC South and the e game is to be played at the LP Field in Nashville, Tennessee with kickoff scheduled for 8:25PM ET and Televised on the NFL Network.
If you are an SBG Global affiliate then you more than likely are favoring Indianapolis in this game, but with the Colts loss this last Sunday to the St. Louis Rams 38-08 who were 3-6 entering the game, they may have a different outlook. The Colts QB struggled in this game as he was intercepted 3 times, even as he had a great day with his passing game throwing for over 350 yards. Their running game was held to a minimum, and they just couldn't find the end zone. For the Rams their backup QB Clemens threw for 247 yards on some 9 completions for tow TD's and their defense took advantage of the Colts 5 turnovers and one fumble and they converted those errors into tow defensive touchdowns. With little time between that Sunday loss to the Rams, and this game Thursday night, the Colts will have to do some regrouping to try and return to their early form, as when they beat the Broncos 39-33 in Oct and the Texans 27-24 on November 3rd.
The Titans at home for this Thursday game against the Colts, this past Sunday in their loss 29-27 of the Jacksonville Jaguars (1-8) whom were without a win this season finally broke the ice and won their first game for the 2013 season. The Titans if appears beat the Jaguars every way except on the scoreboard. Additional their turnovers were a big factor in the Titan's loss in that game, with Jacksonville scoring twice in the last 4 minutes of the game. Every chance the Jaguars got they managed to take advantage of even as the Titans rushed for more yardage 362 to the Jaguars 214. The Titans struggled all day in that game, and Jacksonville held them to just two field goals in the second half of the game. Then trapped them into a safety with little time left in the game that proved to be the deciding winning margin. The Titans will also have to regroup in this short week if they plan on defeating the Colts this Thursday. Good luck to both these AFC South teams.