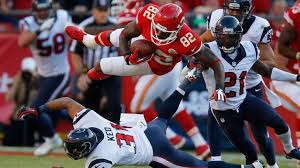 SBG Global football fans and NFL fans who are hungry to Bet on NFL football will love this Sunday night matchup between two of the leading teams in the NFL and both happen to be in the same AFC West Division with the Kansas City CHEIFS undefeated (9-0, 1-0 1st AFC West) visiting the arch rival Denver BRONCOS (8-1, 2-0 2nd AFC West) with the kick-off scheduled for 8:30PM ET and the game is being played at Sports Authority Field in the mile high city of Denver, Colorado. The weather is expected to be chill, in the 40's with mild 12-14 mph winds out of the NW.
The Offshore Betting fans see that the early odds line favors Denver in -8 with the total for the game at a49 ½ and the money line at -400. Last Sunday the 10th of this month the Broncos beat the San Diego Chargers 28-20 as QB Manning for Denver threw 4 touchdown passes as their Coach John Fox was recuperating from a heart operation at his home in Charlotte, N.C. Unfortunately Manning was injured in the closing minutes of the game with an ankle injury, but is expected to play against the Chiefs on Sunday. Despite that, he was able to complete 25 of his 36 passes for some 330 yards in the game. This season Manning has amassed 3,249 yards passing in 9 games with 33 touchdowns. RB Moreno and Thomas both had good ground gains for the game. The Chargers threatened on at least three times in the game but the Denver defense only allowed them to make field goals on those occasions. In this game Denver set an NFL record of 371 points in 1st nine games and at the same time the Broncos posted the 300th win for their Owner/CEO Pat Bowlen.
The Chiefs this past week had a bye week so they should be fresh and ready for their game with Denver with the exception of WR Bowe who was arrested for speeding and marijuana possession last Sunday night and Coach Reid will address that issue before game time. In their last game against the Buffalo Bills the Chiefs won the game 13-23 thanks to a defense that in one instance had a 100 yard interception return for a TD, and also picked up a fumble and returned same for 11 yard TD. The Chiefs are on their worst to first run after last year's finish of 2-14 and they accept TD's anyway they can get them. This should be a fantastic game and best of luck to both Kansas City and Denver.