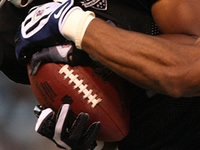 This Sunday afternoon, the San Diego Chargers travel to the Midwest to take on the Chiefs in Kansas City. Gametime in Arrowhead Stadium in Kansas City, MO, is scheduled for 1:00 PM ET, and the game will be televised regionally on CBS.
The Chargers come into this game after losing at home to the Atlanta Falcons, 27-3. San Diego's offense was non-existent, scoring only one field goal the entire game, and suffering a 384-280 deficit in offensive yards. They also gave up 4 turnovers, including 2 interceptions. The Chargers defense was just as bad against Atlanta, giving up 20 points in the first half, and allowing the Falcons to hold possession of the ball for 13 more minutes than San Diego. QB Phillip Rivers had a forgettable game, throwing 21-of-38, for 173 yards, and no touchdowns. Rivers has gone from completing 73 and 75 percent of his passes in the first 2 games, to just 55% in Week 3. Start your NFL Wagers on Chargers vs. Chiefs Game.
The Chiefs, on the other hand, come into this game after a win over the New Orleans Saints in the Superdome, 27-24. In that one, the Chiefs trailed 24-6 well into the third quarter. They needed until overtime to get it done, but the Chiefs held a 510-288 edge in total yards, and a 273-81 edge in rushing yards. They held the ball for 16 more minutes than the Saints, and held a 27-14 edge in first downs. QB Matt Cassel threw 26-of-44, for 248 yards, while RB Jamaal Charles ran for 233 yards on 33 carries.
The underdog is 14-4 ATS in Kansas City games, and 5-0 ATS in San Diego division games. The Chargers are 2-1 ATS on the year, and 1-0 ATS as the away dog. Kansas City is 18-4 in September games when they are the home underdog. The Chiefs are 1-2 ATS overall this season, and 0-1 ATS at home. Check the Football Gambling Odds for Chargers vs. Chiefs Game.
These two teams have met 22 times since 2001, with the Chargers holding a 12 games to 10 edge. Their last meeting took place in October 2011, resulting in a 23-20 KC win. In that game, the Chargers were 3 point favorites. In a September 2011 win, the Chargers won 20-17, although they were favored by 14 ½ points.
For Sunday's matchup, the oddsmakers from sbgglobal.eu are calling it a pick'em. The line opened slightly favoring the Chargers by 1 point. The over/under is set at 41 points.
Open an Account for the best Sportsbook Parlay and Vegas Teaser Payouts in the Industry.
Check the Game Podcast: