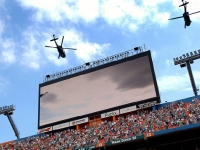 The NFL season the Chicago Bears are 7-6 and on paper, have a chance to make the playoffs. The two teams that are currently the wild-card choices for the playoffs are the Falcons at 9-5 and the Detroit Lions at 8-5. They are only one game away from a wild-card. But they will have to win their last three games of the season and hope the Falcons or the Lions lose. Other teams that are 7-6 are the Cowboys and Giants. But they play each other in the last game of the season and the loser will have at least seven losses. Start your NFL Betting action on Seattle Seahawks vs. Chicago Bears game.
But the bad news for Bear fans is that they have lost both their starting quarterback and their best running back. Caleb Hanie has started for Jay Cutler at the quarterback position in the last three games and the team has lost all three games. Forte has been hurt since the first week of December and the latest news is that the Bears wide receiver, Sam Hurd, is currently in jail on drug charges. In the last three weeks this team has been gutted, and what is left is the equivalent of team that cannot win a single game.
Seattle, to their credit, has played good recent football. Overall they are 6-7, but they have won their last four out of five games. Against a healthy Bear team, the Seahawks would be competitive, but with the Bears in the shape they are in, Seattle should be the favorite.Check the NFL Odds for Seattle Seahawks vs. Chicago Bears game.
The opening line in Las Vegas was Bears -4.5. It has since moved to -3.5 the MGM Mirage casinos. If the spread holds, a bet on the underdog might be in order. Bears fans will be hoping for a win, but the Seahawks are good enough to easily defeat a wounded Bear team.
Open an account for the best Sportsbook Parlay and Vegas Teaser Payouts in the Industry.