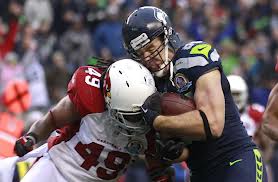 The Seattle Seahawks rebounded from a loss against the Indiana Colts by beating the Tennessee Titans 20-13 on Week 6. Seattle will visit the Arizona Cardinals next this Thursday, 17th, and they will do so as 6 point favorites. Meanwhile, Arizona is coming off a defeat versus the San Francisco 49ers for their third loss this season and a .500 winning percentage. The Hawks are 5-1 and looking more and more as championship contenders, at least as far as the NFC goes. By the way, the Seahawks are on top of that division while the Cards are last though their overall win-loss record is the same as the Rams. It should be clear to people who bet on football who's the favorite and who's the underdog, at least on paper.

However, the game still has to be played, and if the Cardinals protect Carson Palmer's passes better, they may have a chance. Palmer has gone on record to say that Arizona's offense is the toughest he has had to command in his eleven-season career, and while the former Bengal and Raider relishes the challenge, and should probably have adapted to it by this point, that's still a potential weakness that both Seahawks and gamblers who bet on NFL might profit from.

Adapting is not a problem that Seattle's QB Russell Wilson has had to face, though. Wilson seamlessly made the transition from college to the big time, leading the Seahawks back to the playoffs (where they won their first road post-season game in three decades) through their first winning season in five years. Oh, and he was elected rookie of the year too while he was at it. So there's that. As a matter of fact, Wilson has more rushing yards (294, the team's second best) than Arizona's rushing leader (Rashard Mendenhall, with 259). Of course, that's not to say that Wilson could take on the Cardinals all by himself. That wouldn't be fair, and people who bet on football games know that. But he's not alone. On the contrary, he has a solid team around him, and this Thursday the Cards may justify their last place standing with a losing record.