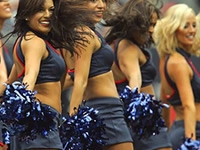 The Eagles saw the return of their star quarterback Michael Vick last week when defeating the Dolphins in Miami. This win made the team 5-8 for the season and kept a mathematical playoff chance alive. Although Eagle fans were certainly excited by the win as well as seeing Vick on the playing field, the Eagles were not as impressive as the 26-10 victory may seem. A poor Dolphin offense coughed up the ball several times giving the Eagles easy chances to score. Although the Eagles defense is to be given credit for their performance, they will have more trouble against the Jets.
The New York Jets have an offense ranked number seven in scoring for all teams in the league. They are 8-5 for the season and have won three games in a row as they make a run for the playoffs. Start your NFL Betting action on New York Jets at Philadelphia Eagles game.Trailing the Patriots in their division by two games, the Jets are looking to earn a wildcard spot. At this time, they are in the playoffs as the second wildcard, but the Raiders, Bengals, and Titans are only a game behind. The Jets need to finish the season strong to win a playoff berth. Their mindset for Sunday's game will be much different. With the playoffs on the horizon, playing in Philadelphia will probably not be a great distraction, but will be an obstacle to overcome.
The opening line in Las Vegas was Eagles -1 with the odds currently drifting to -3 at MGM Mirage casinos. Clearly the Vick factor is at play here as too much has been made of the Eagle's star quarterback. NFL odds for New York Jets at Philadelphia Eagles game. Last week's victory was against a weak team, and that makes the Jets a strong bet, if only because they should be a slight favorite in this game. In what could be a good game, this writer projects the Jets to win by six.
Open an account for the best Sportsbook Parlay and Vegas Teaser Payouts in the Industry