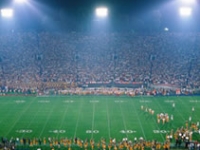 The AFC playoffs are set to start and most people are wondering which teams have the best chance at winning. This can be quite difficult to determine as you will get a lot of biased answers. The playoffs will consist of the Ravens, Broncos, Texans and Patriots and though all four teams are very talented, only one team will advance to the Super Bowl. Whether you are a football fan or not, you have to admit that playoffs in the NFL is simply an experience that is not in any other sport. With only 16 regular season games a few playoff games, each battle will show everyone pouring their hearts out. Unlike in other sports where there are long regular seasons, football allows each game to be a very pivotal part of the season and the tension only rises as the Super Bowl gets nearer. Check the NFL Odds for 2012 AFC Playoff game.
The obvious favorites in the AFC would be the New England Patriots but heir game against the Broncos will prove to be a big test. After Tim Tebow and the Broncos surprisingly beat the Steelers, it just goes to show that the Tebow miracles just keep delivering. Though the Patriots demolished the Broncos in the regular season, Broncos fans are still holding onto a possibility of making it to the Super Bowl this year despite being the heavy underdogs in the AFC battle. Start your NFL Betting action on the 2012 AFC Playoff game.
The Ravens are certainly the favorite against the Texans and though this might seem like a close matchup, the Ravens will certainly pull this game out. The Patriots will most like meet the Ravens in the AFC Championship and the team
from New England will most likely make it to the Super Bowl. The AFC playoffs will certainly be very exciting and will feature some of the best games of the post season.
Open an account for the best Sportsbook Parlay and Vegas Teaser Payouts in the Industry.