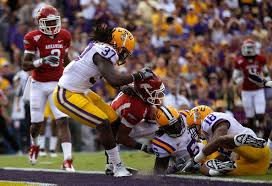 NCAA FB Week # 3 is here, so let's take a look at the teams ranked #6 thru #10. Our last article covered the Top 5 teams, taking a look at how they made out with their second games of the 2014 season. The only change in the Top 5 teams was that Oregon moved in to second while Alabama dropped from #2 to #3. The Georgia Bulldogs are No.6 at (1-0) in rating for this third week of regular season NCAA FB, with Texas A&M Aggies No.7 at 2-0, Baylor Bears are No.8 at 2-0, USC Trojans are No.9 at 2-0 and the LSU Tigers are No.10 at 2-0.
Georgia Bulldogs vs. South Carolina Gamecocks
The No. 6 Georgia Bulldogs 2-0 (SEC-East) who beat the No.16 Clemson Tigers 1-1 (ACC-Atlantic) last week 45-21, this week travels to No. 24 South Carolina Gamecocks 1-1 (SEC-East) who beat the unranked East Carolina Pirates 1-1 (American) in Week #2.
The Georgia and South Carolina game will take place at the Williams-Bryce Stadium in Columbia, South Carolina. Opening odds on this game favor the Bulldogs at -5 ½ O/U 60 and ML -230. The Gamecocks have two previous consecutive wins against Georgia who was a preseason pick behind South Carolina at the SEC media day. However the Bulldogs were very impressive in their victorious first game whereas the Gamecocks in their opening season game lost to No.21 Texas A&M 28-58.
The Gamecocks on Saturday will most likely be focused on stopping the Bulldogs RB Curley (a Heisman favorite) who last season had 30 carries for 132 yards and scored to TDs against South Carolina. The Gamecocks in their first two games QB Thompson was 45 of 78 for 632 yards and 5 TDs, RB Davis had 24 carries for 116 yards and scored 2 TDs and receiver Jones with 10 receptions for 157 yards and 2 TDs.
On the other side of the ball, the Georgia will be testing the Gamecock defense which allowed the opponents in the first two games some 832 yards offensively. Georgia QB Mason in their first game was 18 of 26 for 131 yards, RB Gurley had 15 carries for 198 yards and 3 TDs while receiver Bennett had 5 receptions for 60 yards.
Texas A&M Aggies vs. Rice Owls
The No. 7 Texas A&M Aggies 2-0 (SEC-West) in their second game beat unranked Lamar Cardinals 1-1 (Southland) 73-3 this Saturday plays the Rice Owls 0-1 (USA) who last week lost to No.17 Notre Dame 48-17 (Independent) and the Aggies are favored against the Owls at -31 ½ with O/U 71.
The Aggies won their first two game scoring 125 points to their opponents 31. QB Hill for the two games was 61 of 86 for some 794 yards and 7 TDs, RB Williams had 20 carries totaling 132 yards and scoring 2 TDs and receiver Kennedy made 17 receptions for 170 total yards and 1 TD. The Aggies beat Rice in last year 52-31.
The Owls facing their second ranked team and a road game to open their season and last week they lost big to Notre Dame 48-17 and Rice has not been a ranked away team since back in 1991. Rice QB Jackson for their opening loss was 13 of 24 for 163 yards and 1 TD, while RB Jackson had 11 carries for 61 yards and receiver Maden had 1 reception for 53 yards a 1 TD.
Baylor Bears vs. Buffalo Bulls
No. 8 Baylor Bears 2-0 (Big 12) beat Northwestern State Demons 0-2 (Southland) 70-6 in their second game, now they meet Buffalo Bulls 1-1 (MAC-East) whom lost to the Army Black Knights 1-0 (Independent) 47-39 and No. 8 Baylor is favored over Buffalo at -33 ½ with the O/U 51.
The Baylor speedy receiver in their game against Northwestern made 3 TD catches of 42, 50 and 81 yards in the first quarter giving the Bears an early lead in their 70-6 victory. That win moved the Bears from 10th to 8th in the Top 25 rankings. For the first two games QB Russell was 29 of 48 for some 562 yards with 6 TDs while RB Jefferson had 32 carries totaling 164 yards and 1 TD, and receiver Cannon caught 8 passes for some 282 yards and 4 TDs.
The Buffalo Bulls come into this game with Baylor after their 47-39 loss to Army giving up 341 yards and their QB Licata was intercepted three times by the Army defense. The Bulls made a brave effort in the fourth quarter with a 22 point rally but came up short by one possession. For the Bulls first two games QB Licata was 60 of 86 for 699 yards and some 8 TDs, and RB Taylor had 46 carries for some 194 yards scoring 2 TDs and receiver Willoughby made 15 receptions for 187 yards and 2 TDs.
In the series with the Buffalo Bulls the Baylor Bears lead 3-0 with the most recent win for the Bears was in 2013 when they won 73-13. Two of the series games have been played at Baylor with one game at Buffalo back in 2007.
USC Trojans vs. Boston College Eagles
The No. 9 USC Trojans 2-0 (Pac 12-South) who beat No. 13 Stanford Cardinals 1-1 (Pac 12-North) 13-10 this Saturday play unranked Boston College Eagles 1-1 (ACC-Atlantic) who last week lost to the Pittsburgh Panthers 2-0 (ACC-Coastal) 30-20. The opening odds favor the Trojans at -17 with O/U 51.
In the Trojans first season game they had 105 plays for 701 yards and beat Fresno State 52-13 on their home field. Then in their second win against Pac-12 reigning champions Stanford, they only had 291 yards of offense on 59 plays, while their defense allowed Stanford some 413 yards and a touchdown. QB Kessler for the Trojans first two games completed 40 of 59 passes for 529 yards and 4 TDs, with BB Allen having 45 carries for 287 yards and 1 TD, and receiver Agholor had 14 receptions for 148 yards and 2 TDs. The Trojans have had 4 games with the Eagles of BC and won all games.
The Boston College Eagle after their loss to Pittsburgh 30-20 will seek some offensive balance in this game especially from transfer QB Murphy from Florida whom is a dual threat QB, but was only able to complete 10 of 28 passes for 134 yards and 1 TD and two interceptions. For the two games BC played Murphy was 27 of 52 for 307 yards and 2 TDs while RB Murphy had 29 carries for 210 yards and 2 TDs and receiver Bordner had 5 catches for a total of 82 yards and 1 TD.
With this game at Boston College it's the first time since 1988 and USC traveled to Boston and they won the game 34-7. The Eagles have now lost 11 consecutive games to ranked opponents.
LSU Tigers vs. UL-Monroe Warhawks
The No. 10 LSU Tigers 2-0 (SEC-West) in their last game beat Sam Houston State Bearkats 1-2 (Southland) 56-0 this Saturday, Sept 13 will play unranked UL Monroe Warhawks 2-0 (Sun Belt) whom last week beat the Idaho Vandals 0-1 (Sun Belt) 38-31. The Tigers are -31 O/U 52 and early odds from our sportsbook favorites in Tiger Stadium over the Warhawks.
The Tigers believe they now have a balance offense with sophomore QB Jennings who has not had an interception in their first two games and is 16 of 34 passes for a total of 427 yards with 5 TDs while RB Hillard has 29 carries for 165 yards and 2 TDs and receiver Dural has caught 6 passes for some 291 yards and scored 4 TDs. However, the Tigers still depend on the running game as in the first two games they ran the ball 105 times in their 144 total offensive plays.
In UL Monroe's first two games the Bearkats defense held the Deacons of Wake Forest to 94 yards as the Bearkats won their opener 17-10 and in their late victory over Idaho it was RB Donald who with 9 second left in the game made a TD run to give UL Monroe the win over Idaho 38-31. In the first two games the Warhawks QB Thomas was 47-85 for some 573 yards and 2 TDs while RB Donald carried the ball 46 times for 228 yards and 3 TDs and receiver Holley made 8 receptions for 187 yards and 1 TD.