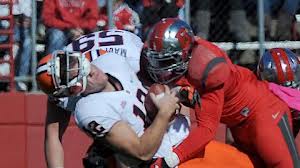 The day after Christmas there are no 2014 bowl games, but Friday the 26th features the Quick Lane Bowl. The Rutgers Scarlet Knights 7-5 of the Big Ten East will play the University of North Carolina Tar Heels 6-6 of the ACC Coastal. Kick off time is 4:30 PM ET and the game will be televised on ESPN TV. The neutral site for this bowl is Ford Field in Detroit, Michigan.
The Tar Heels are early favorites in the game at -3 (-115) with the O/U 66 ½ and ML -160, the comeback for Rutgers +6 and +140 ML. This could be an real interesting game should the cold weather area of Michigan especially if it snows or the temperature drops drastically, as the Tar Heels are not accustomed to that type of climate, whereas the Scarlett Kings would be more at home!
The Rutgers Scarlet Knights would like to win this game against UNC, and continue their trend, as it was their first season in the Big Ten. The Rutgers team will meet the North Carolina team that the sports media claims; they have the worst defense of all North Carolina football teams. But, neither team has a great defense, so more and likely we could see a high-scoring game. Rutgers is ranked 92nd in the nation for the points they allow opponents this season which is 30.9 points each games.
The North Carolina Tar Heels team was a preseason picks to finish last in their ACC division, and this season they struggled to become Bowl eligible. The 6-6 Tar Heels in 2014 averaged scoring 34.3 points per game, and allowed their opponents to score some 38.9 points per game. When playing at home in 2014 they were 4-2 and for the road games in 2014 they were 3-3. The offensive leaders for UNC are QB Williams who completed 245 of 391 passes for 2,870 yards with 20 touchdowns and 9 interceptions, and a completion rating of 62.4 percent. QB Williams has 178 carries for the season for 737 yards and 12 touchdowns, while Receiver Switzer had 55 receptions for 703 yards and 4 touchdowns.
The Rutgers Scarlet Knights 7-5 for the season averaged scoring 25.6 points per game, while allowing their opponents some 30.9 points per game. Playing at home they were 4-2 and on the road 2-4. Their offensive leaders this 2014 season were QB Nova who completed 178 of his 307 passes for some 2.667 yards with 20 touchdowns and 12 interceptions, and a 58.0 percent completion rate. RB Peoples had 115 carries for 447 yards and 3 touchdowns, while receiver Carroo made 53 receptions for 1,043 yards with 10 touchdowns.
Football fans who bet on college bowl games at SBG Global, here is a stat that could help you in making your wagering decisions; the Tar Heels and the Scarlett Knights have met 6 times with North Carolina winning the last 3 games, while Rutgers won the 1st three games. The last time these teams met was back in 2011 and the Tar Heels won the game 24-22 over Rutgers.