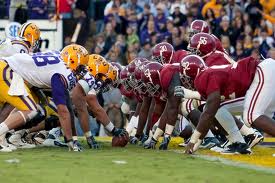 Moving into Week 6 of NCAA Football and its first game on Thursday, October 2nd, the Arizona Wildcats 4-0 (1st Pac 12 South) play the No. 2 Oregon Ducks 4-0 (1st Pac 12 North), who are favored at -22 ½. The game will be played at Autzen Stadium in Eugene, Oregon with kickoff at 10:30 PM ET and on ESPN TB.
The Oregon Ducks coming off a bye week are seeking not to repeat their loss of 2013 to the Arizona Wildcats. This game in Eugene includes 2 of 3 unbeaten teams in the Pac 12 with UCLA the other. The Ducks have won three non-conference games by an average of 34 points each game, while also producing an incredible 555.2 offensive yards per game.
The Arizona Wildcats also 4-0 are also coming off a bye week and the Arizona team has been more incredible with its 493.8 offensive yards per game.
Leaders in this game for Oregon are QB Mariota a Heisman candidate who has completed 71 of 96 passes this season for 1,135 yards and 13 touchdowns, RB Freeman with 48 carries for 261 yards and 5 touchdowns, while receiver Allen has 14 receptions for 299 yards and also 5 touchdowns.
For Arizona their leaders are QB Solomon, who has completed 111 of 175 passes for 1,454 yards and 13 touchdowns, RB Wilson with 77 carries for 482 yards and 4 touchdowns, and receiver Jones has 29 receptions for 475 yards and 6 touchdowns.
Looking at those statistics, this game could prove to be a real offensive battle, and potentially a high scoring game if your one to bet on college football.
---
Then the No. 5 Auburn Tigers 4-0 (1st SEC West) are playing the No. 15 LSU Tigers 4-1 (6th SEC West) with the game being played at the Jordan-Hare Stadium in Auburn, Alabama at 7 PM ET on Saturday Oct. 4th 2014 with Auburn favored at – 7 ½. There are several other top ranked games playing this Saturday, as No. FSU, No.3 Alabama and No.4 Oklahoma all are in play on Saturday. However, we chose this all Tiger game as the best game of the Wk#6 Top 5 games, apart from the No.2 Oregon game which we previously previewed.
Auburn has tried to prepare for a very tough schedule they face that includes 5 top 15 ranked teams with the 1st being this Saturday night game with LSU. Auburn hopes to defend its SEC Championship of 2013 by winning it again in 2014. This game with LSU is Auburns toughest challenge so far this season.
LSU had a sad loss last week to the undefeated Mississippi State and they are now looking forward to this game on their home field against the Auburn Tigers.
The team leaders to date for LSU are their QB Jennings, completing 42 of 83 passes for 734 yards and 5 touchdowns, RB Fournette with 66 carries for 322 yards and 4 touchdowns and receiver Dural with 21 receptions for 534 yards and 5 touchdowns, and the team averaged 41.4 points per game.
The Auburn team leaders are QB Marshall who completed 41 of 73 passes for 548 yards and 6 touchdowns, RB Artis-Payne had 86 carries for 468 yards with 5 touchdowns, while receiver Williams with 23 receptions for 357 yards with 3 touchdowns and the team average 42.3 points per game.
The two teams in a series of seven games, LSU has managed to win three straight, and six of the seven series games. In 2013 they gave Auburn its only regular season loss leading at halftime 21-0 and winning the game 35-21. With this being a SEC conference game both teams will be fighting for the win, thus it should be a very interesting Tiger's matchup.
If you're and SEC fan and Bet on College sports at sites like SBG Global, an online leader, many questions are being asked, as to which Division of the SEC is the best, the West with Texas A&M, Alabama, Mississippi State, Auburn, Ole Miss, LSU and Arkansas or the East with Missouri, Florida, South Carolina, Georgia, Kentucky, Tennessee and Vanderbilt?