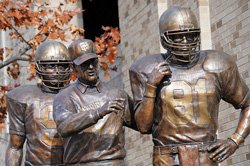 For the NCAA College Football fans the long dry season is about to end as the 2015-16 NCAA FB season is set to start. In the 2014 season there were some performances that are for remembering from quarterback that change how we look at, and how the QB position is played going forward to another season of college football.
No. 10 is QB C. Cook of Michigan State University Spartans, as a team leader who took his team to 3 bowl wins and a Big 10 title, and the main reason he is not ranked higher, is because of his overall 59% completion rate which is subpar in NCAA FB. In 2014 he threw for 24 TD's and over 3,202 yards with 7 intercepts.
No. 9 is QB G. Kiel of the Bearcats of Cincinnati University and he turned out to be a rifleman for the Bearcats. He was a 5 star recruit who came from Notre Dame as a transfer, and had an incredible debut in 2014 throwing for 31 TD's for some 3,255 yards with just 12 intercepts.
No. 8 is QB J. Thomas Jr. of the Rambling Wrecks from Georgia Tech as he led his team to the 2014 title for the ACC Coastal Division and a win over the Bulldogs of Mississippi in the Orange Bowl. But the lost the ACC Title game to the Seminole of FSU 37-35 which has motivated Georgia Tech to seek bigger things in 2015. This QB carried the ball some 190 times rushing for 1,088 yards while scoring 8 TD's. His passing game resulted in 18 TD's throwing for a total of 1,720 yards win just 6 interceptions. Tech expects a lot more out of Johnson this 2015 season.
No. 7 is QB D. Watson of the Tigers of Clemson University who last season had injury problems with a broken hand and missed the last 3 games of 2015. This season they lost their OC C. Morris to rival MSU, just another sign a rough season may be forthcoming. However, Watson has many positive attributes that will allow him to succeed rather than regress this season. In 2014 he played in 8 games, while starting 5 games but still was able to accumulate 1,468 yards passing for 14 TD's with only 2 interceptions, while posting an incredible 68 percent pass completion rating, and posted a 188.6 passing rate in 2014.
No. 6 is QB D. Prescott of the Bulldogs of Mississippi State University as he led his team in 2014 to the No. 1 slot in the USA in October of 2014 and that was a result of the 2 sided talent of QB Prescott. That shows in his stats as he passed for 3,450 yards and 27 TD's while rushing for 988 yards and scoring some 14 times. This season could be difficult as he has a revamped offensive line, and lost star RB J. Robinson.
No. 5 is QB C. Hackenberg of the Nittany Lions of Penn State University who appears as a top pro prospect in today's 2015 college football class, but his stock in the draft dropped somewhat after a struggling 2014 season as a sophomore. In 2014 he only averaged 6.3 yards per pass completion, with 12 TD's and 15 intercepts and a passer rating of 109.3. But he is expected to make a comeback this 2015 and be atop the rankings again.
No. 4 is QB T. Boykin of the Horned Frogs of Texas Christina University who is one of the favorites to win the Heisman Trophy in 2015 with +500 odds going into the season. He led his team from a 4 win 8 loss records in 2013 to 12 wins and 1 loss in their 2014 season. Much of the credit for their success goes to their coordinators preparing their QB, accompanied by the incredible talent of QB Boykin. Thus in 2014 Boykin passed for some 3.902 yards and 33 TD's, while rushing for 708 yards and 8 TD's and that's one reason he is a Heisman candidate in 2015.
No. 3 is C. Jones of the Buckeyes of Ohio State who was a 3rd string QB in 2014, and in just 3 games as a starter he led the team to the National Title in 2014. With his rifle of an arm, in those 3 games he threw for some 745 yards and 5 TD's and proved to be the player that led the Buckeyes to the win over Wisconsin for the Big 10 title, the win over Alabama in the Sugar Bowl, and then the victory and the National Title.
No. 2 QB J. Barrett of the Buckeyes of Ohio State is also in this top 10 QB ranking, and may turn out to be the leader for the Buckeyes in 2015. In 2014 he broke his ankle in the game with Michigan, and Jones took his place. Barrett up until then had passed for some 2,835 yards with 34 TD's and a ranking of 64.7% for completions, while rushing for some 940 yards and 11 TD's in 2014. He likely will lead Ohio State in 2015 at QB and has odds of +175 in becoming the National Champions again in 2015.
No. 1 is QB C. Kessler of the Trojans of the University of Southern California who appears to have the required skills at pocket passing to move on to the NFL, so this QB looks like a NFL QB in preparation considering his statistics for the 2014 season. He had an incredible season passing for some 3,830 yards for 39 TD's with just 5 intercepts, and with a 69.8 completion rate for the season. More important for the 2015 season, is he has all 5 offensive starting lineman returning for his protection this season and he is a +1,000 to win the Heisman in 2015.
Thus, if you're a fan that will Bet on College football at a sportsbook this 2015-16 seasons will keep you occupied watching these QB's as they all seek the Heisman Trophy in the 2015-16 seasons.