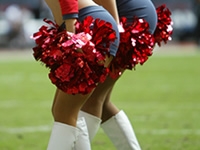 This coming Monday, the 29th of December, 2014, the 2014 Autozone Liberty Bowl will be played. This bowl features the 7-5 Texas A&M Aggies (SEC West) playing the 7-5 West Virginia Mountaineers (Big 12). The game will be played at the Liberty Bowl Memorial Stadium in Memphis, Tennessee. Game time is 2PM ET and you can watch all of the college football betting action on ESPN TV.
In this game West Virginia is favored at -1 ½ with the O/U at 65 and ML -125 with the comeback for Texas A&M +1 ½ and +105 ML. However, expect these lines to change as the Mountaineers starting QB Trickett who suffered a head injury back on the 20th of Nov. was cleared to play, but Trickett this past Friday announced he was retiring, after enduring 5 concussions in 14 months. QB Trickett passed for over 300 yards in the 1st seven games, one of which was their win over then No.4 Baylor, as he passed for some 322 yards, completing 23 of 35 passes for 3 touchdowns in their 41-27 win over Baylor. He also presented a rushing threat for opponents as he had rushed for 107 yards in 3 games on 12 carries, while his passing completion rating was at 67.1 percent.
Thus, the West Virginia Coach Holgorsen has chose backup QB Howard (who has had only 1 start this season) to start this Bowl game. But he did see other action than starting, as on the season he passed for 5 touchdowns and had 483 yards passing, while completing 57.1 % of his passes.
Both teams have experience pre bowl game changes as the Aggies Coach Sumlin fired defensive coordinator Snyder after their loss to LSU on the 27th of November, 2014. Primarily because the Aggies had lost 5 of 7 games, allowing opponents some 449 yards per game which was the most in the SEC. Still the team is looking for a win to make it their 4th straight Bowl win.
These 2 teams are very similar in the matchup statistics as both have a record of 7-5, while the Aggies have been averaging 34.4 points per game, and allowing their opponents to score an average of 27.3 points per game, and their record is 4-2 at home and 3-3 on the road games. The Mountaineers have averaged scoring some 33.2 points per game, while allowing opponents to score 26.2 points per game, and at home their record is 3-4 and on the road their record is 4-1. Both the Mountaineers and the Aggies are very offensively minded teams that pass often and in the national rankings, they both are in the top 12 in total passing yardage.
So if you bet on college bowl games at a sportsbook, in this game remember the Mountaineers QB has retired and the Aggies QB Hill has had a great 2014 season passing for 2,549 yards and 23 touchdowns. Also, this is the 1st ever meeting between West Virginia and Texas A&M in a way is a reunion for some of the coaches, as the Mountaineer Coach Holgorsen was Aggies Coach Sumlin's offensive coordinator when they both were coaching at Houston in 2008 & 2009.