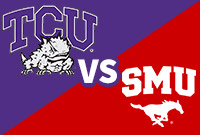 The TCU Horned Frogs will enter the Battle of the Iron Skillet as NCAA football betting favorites over the SMU Mustangs on Friday, September 23rd at Gerald J. Ford Stadium in Dallas. Will TCU extend its rivalry winning streak to five games? And which is better, Christianity or Methodism? The answers to these and other questions will be forthcoming; meanwhile, place an NCAA football bet, why 'doncha?'

TCU -23 (-110) -2300
SMU +23 (-110) +1350
The TCU Horned Frogs improved their record to 2-1 with a 41-20 win over the Iowa State Cyclones in week 3, though head coach Gary Patterson wasn't jumping for joy. "It's a win. I'm not happy about it, but it's a win," he said. According to Patterson there was not "enough emotion," and "people get hurt" when they don't show emotion. "When you're the nail and not the hammer, you get hurt." Well, if that's the way he doles out instructions – swinging from painfully obvious statements to ice cream 'koans' – then NCAA football betting fans could understand how his players don't have any emotions, except confusion. QB Kenny Hill threw a TD pass to Kyle Hicks and rushed for another. Hicks also ran for a touchdown.

The SMU Mustangs beat the Liberty Flames 29-14 in a haphazard game that featured 12 penalties and six interceptions. Braeden West rushed for 220 yards and two touchdowns, the second on a 66-yard run. SMU closed with a 57-yard drive to set up Josh Williams's 27-yard field goal to make it 22-14 with 47 seconds on the clock. Jordan Wyatt put the cherry on the top, intercepting Liberty QB Stephen Calvert with 18 seconds remaining and returning 34 yards for a touchdown. Mustangs quarterback Ben Hicks threw 19 of 32 for 209 passing yards.

About SMU's only advantage heading into this Friday is home turf advantage. Then again, the last time they beat TCU at Gerald J. Ford Stadium was in 2005. These two teams' most recent encounter took place on September 19th, 2015, and a few things have changed since then, especially under center. Former TCU starting QB Trevone Boykin was signed as an undrafted free agent by the Seattle Seahawks earlier this year, and SMU lost dual-threat QB Matt Davis to a season-ending ACL tear. But while Kenny Hill is not Trevone Boykin, he does have the upper hand over Ben Hicks.

That's for offense. On defense and under normal circumstances, NCAA football betting fans know that Horned Frogs are stronger with James McFarland, Josh Carraway and Aaron Curry, though Carraway and CB Jeff Gladney both left the game against Iowa State with injuries. That being said, they probably were luckier than receiver/returner KaVontae Turpin, who reportedly tore his posterior cruciate ligament. Even without Turpin, however, TCU's special teams are looking better than the Mustangs', which average 36.5 yards per punt. All things considered, in the clash between defensive savant Patterson and offensive mastermind Chad Morris, the former will get the best of the latter, and who knows, he might even be happy about it.