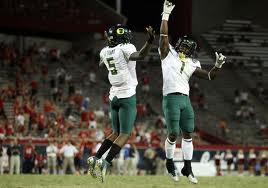 Those who use an Offshore sportsbook to Bet on College football have an opportunity this Saturday, November 23rd at 3:30pm ET with two teams of the rival PAC12, and they will see the #5 Oregon DUCKS (9-1, 6-1 1st PAC12 North) who will be visiting the Arizona WILDCATS (6-4, 3-4 4th PAC12) and the game is being played at the Arizona Stadium in Tucson, Arizona and will be seen on ABC Regional TV. Weather forecasts call for Cloudy, Mild 69 with Sprinkles and winds 14mph/E.
Generally speaking at the Sportbook the opening lines are usually posted early on Monday mornings of each NCAA week and they change regularly as wagering volume indicates. In this PAC 12 rivalry the #5 Ducks are favored at – 20 ½ and that could be advantageous to the Wildcat fans for wagering purpose as they can take their team plus the 20 ½ points. The Arizona team was upset last Saturday the 16th of Nov. to the Washington State Cougars 24-17 in Tucson. Arizona scored both of their TD's in the first half and then had a field goal in the 3rd and no score in the 4th quarter. Their RB Carey scored both TD's on a 30 yard run and the second on a 7 yard reception for the touchdown as he had his 13th consecutive 100 yard game. The Cougars were able to score their winning TD with 2:15 in the game with a 25 yard pass from QB Halliday to WR Myers. This is the first meeting of these two teams since back in 2010 and the first time the Cougars have visited Tucson since 2009.
For the Oregon Ducks fans who Bet on College football, after last week's loss to Stanford they needed a rebound by their team, and that's just what they got. The Ducks beat Utah last Saturday 44-21 as their sophomore QB Mariota threw for three TD's for some 288 yards passing. On the other hand the Utah team came to Eugene, Oregon for this game without their starting QB Wilson due to a concussion and backup QB Shulz was 22 of 45 pass attempts for 157 yards and 1 TD. Late in the 4th Oregon pulled most of its starters out of the game, with the score 37-7 Utah was able to score on a 10 yard TD with 6:01 left in the game to make it 37-14 and that was the last of the scoring for the game. The Ducks should not have any trouble with the Wildcats if they stay on course. Good Luck Wildcats and Ducks!