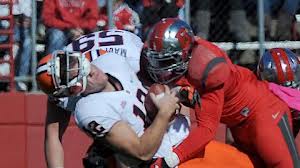 The Penn State Nittany Lions are coming into this weekend's game with the Rutgers Scarlet Knights with a new-found sense of purpose as NCAA sanctions have been lifted. The now-bowl-eligible Lions will travel to High Points Solutions Stadium in Piscataway in the Knights' first Big Ten matchup in the school's history.
Although they have never faced each other in any Big Ten matches the Lions and Knights have played each other ten times from 1986 to 1995. The Lion won all but one of those ten games. The sole exception was a 21-16 Knights win in 1988. This game marks a major development as the teams are now in the East Division of the Big Ten.
The Nittany Lions beat Arkansas 21-3 on September 6. The Lions were -14.5 favorites in this game. The Lions have won straight up and ATS in their last three games. The Lions are 7-1 ATS in their last few September games and were 7-1 over the last few games after having allowed 20 points or less in their prior games. The Lions have won six of their last ten games and have gone 5-5 ATS in their last ten games.
The Scarlet Knights had to work to defeat Howard on September 6. While the Knights won 38-25, the team failed to go past the -38 line. They did go over the 58 point total though. In addition, the Knights beat Washington State a week earlier with a 41-38 score. The Knights were listed at +7.5 for that game. The Knights have lost six of their last ten games in both straight up and ATS situations.
The under for the Knights has gone 13-3 in their last few games following ATS losses. Also, the Knights had won ATS three straight times before their match with Howard.
The line for this game is very narrow as the Penn State Nittany Lions are -3 favorites to win the game, according to SBG odds. The Lions have a straight up moneyline bet at -160 while the Rutgers Scarlet Knights are listed at +140. The over/under is listed at 51.5.