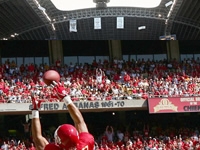 This Friday, the 5th of December, in Week 15 of the NCAA football season, we have the Pac-12 Championship game between the No. 7 Arizona Wildcats 10-2 (1st Pac 12 South) and the No. 2 Oregon Ducks 11-1 (1st in Pac 12 North) with the game played at the Lev's Stadium in Santa Clara, California at 9 PM ET and on Fox TV. The Oregon Ducks are favored in the game at -14 ½ with the O/U at 73 ½ and ML -650 with comeback ML for Arizona +500.
This season the 10-2 Wildcats have be averaging 36.7 points scored per game, while they allow their opponents some 25.5 points per game, and they are 6-1 at home, and 4-1 for road games. On the other side the 11-1 Ducks are averaging some 45-9 points per game, while allowing their opponents to score an average of 23.3 points per game, with home record at 6-1 and on the road 5-0.
The offensive leaders this season for the Wildcats are QB Solomon, who has completed 279 of his 479 passes, for 3,424 yards and 27 touchdowns, with 7 interceptions, and a completion rate of 58.2 percent. RB's Wilson & Jones-Grigsby have combined for some 309 carries for 1,776 yards, with Wilson scoring some 15 touchdowns, and Jones-Grigsby scoring 3 touchdowns this season. Receivers Jones & Grand combined for 103 receptions for 1,076 yards with Jones scoring 8 touchdowns, and Grant scoring 5 touchdown in 2014.
Offensively for the Ducks their leaders this season are QB Mariota, who has completed 229 of 334 passes for 3,470 yards with 36 touchdowns, with 2 interceptions and a 68.6 percent completion rate. RB's combined for 316 carries for 1,821 yards, scoring 27 touchdowns this 2014 season to date. Receivers Marshall & Allen have combined for some 102 receptions for 1429 yards, with Marshall scoring 5 touchdowns, and Allen scoring some 6 touchdowns.
In 2012 and 2013 the Arizona Wildcats had managed to defeat the Oregon Ducks, primarily because they were able to confuse Oregon QB Mariota, causing turnovers, putting forth a lot of effort and having a little luck on their side. They are the one team that can get to Duck's QB Mariota as in the last three years; they have forced him to fumble 3 times, as well as intercepting him 3 times.
The Oregon QB Mariota, is a Junior in eligibility, who has thrown at least 1 TD all of his 38 games with the Ducks, and as their starting QB has only lost 4 games, of which 2 of those losses where to Arizona. The Ducks only loss was to the Arizona Wildcats on the 2nd of October this 2014 season 24-31.
So football fans who bet on college football at a 6https://www.sbgglobal.eu/sportsbook, this game could prove very interesting for the team who wins. If Oregon wins they are certain for the playoff, and if Arizona wins, it's possible they could move into the playoff mix.