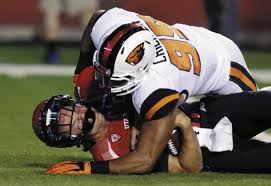 Check with your Sportbook for the Week #12 NCAA football odds if you want to Bet on College football this Saturday as two of the PAC-12 teams face off with the Utah UTES (4-5, 1-5 5th PAC 12 South visiting the #6 Oregon DUCKS (8-1, 5-1 2nd PAC 12 North) with a kick-off time for the game being 4PM ET and the game will be played at the Autzen Stadium with seating for 54,000 in Eugene Oregon! This stadium has exceeded its capacity in every game since it was expanded back in 2002!
The Offshore sportsbook in the early part of the week did not have odds available and we anticipate that is a result of one of the two teams experiencing injury problems. The last game for the Utah Utes was a disappointing loss as Arizona State rallied in the 4th Quarter as their defensive lineman Sutton who was exhausted did not rush hard, as he was catching his breath so he reached up and lo and behold the ball fell into his hands for an interception which secured the Utes 20-19 win. Utah's QB Wilson completed only 6 of his 21 attempted passes and was intercepted twice the last being the one Sutton intercepted that basically ended the game. Prior to that in the 3rd Quarter he connected with WR Fitzgerald for a 12 yard TD to take a 19-7 lead in the game. This was a tough game to lose for the defense as they slowed down the Arizona Sun Devils rushing game and sacked the Devils QB Kelly six times and only allowed him one completion that was for more than 20 yards.
Not only did the Utes have a bad game last Saturday but the Oregon Ducks had their own case of bad experiences as they were upset by Stanford 26-20 and that loss dropped them out of the BCS running for the Championship game in January. They did make a very positive come back in the 4th quarter scoring some 20 points but as it turned out it was too little too late. One of the main problems for Oregon in that week 11 game was their rushing offense was ineffective only rushing for some 62 yards when Stanford gained over 270 for the game. Their game this week against Utah will probably be a game where they take out their anger of loss against the opponent. Good Luck Utes!