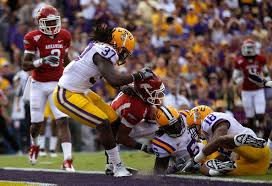 For our NCAA FB Fans whom Bet on College football at the Offshore sportsbook this Friday, Thanksgiving weekend in the USA we have SEC game between to West Division teams and this game is always exciting as the visiting Arkansas RAZORBACKS (3-8, 0-6 7th SEC West meets the LSU TIGERS (8-3, 3-3 4th SEC West) with kick-off scheduled for 2:30 pm ET at Tiger Stadium in Baton Rouge, Louisiana with the weather forecast calling for Cool, partly cloudy with slight winds from NE.
The Razorbacks started their season with three straight wins and then their season went south as they have lost 8 games consecutive and this Friday they play their rival LSU and it's their last game of their 2013 season. This past Saturday the lost a Heartbreaker to Mississippi State 24-17 in overtime as on the first play of OT RB Williams scored on a touchdown run of 25 yards to win the game for Mississippi State Bulldogs.
Arkansas actually led the game in the 1st 10-0 and at the half it was tied at 10-10, then Bulldogs went ahead 17-10 and the Razorbacks came back to tie the game at 17-17 Actually the game was close on the scoreboard but the Bulldogs numbers were more impressive as the beat the Razorbacks on passing and in rushing yardage they were equal with Arkansas. Each team had possession of the ball for approximately 30 minutes of the game. The Bulldogs QB Russell completed 18 of 28 passes totaling some 263 yards and two TD's, while the Razorback's QB Allen was 10 of 17 for 114 yards and 1 touchdown.
More than likely at the Offshore sportsbook the opening lines for those who care to Bet on College football, will be favoring the LSU Tigers. The main reason being their 34-10 win over Texas A&M as the Tigers defense stymied the A&M Heisman Candidate QB Manziel who had probably the worst game of his career and was only able to complete 16 of 41 pass attempts for 224 yards and one TD, while he was sacked twice and intercepted two times and were unable to score in the 3rd or 4th quarters.
On the offensive side for the Tigers were awesome rushing for 324 yards and had a total of 517 net yards compared to A&M's 299. A great win for LSU and they should not have too much trouble in this last game of the season with Arkansas, even being their rival? Good Luck Razorbacks and Tigers!