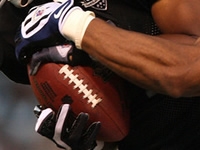 This Saturday, NCAA FB Week 8 features the No. 2 FSU Seminoles 6-0 (1st ACC Atlantic) playing the No.5 Notre Dame Irish 6-0 (FBS Independent). The game will be played at Doak Campbell Stadium in Tallahassee, Florida at 8PM ET. The game will be televised on ABC.
Because of controversial reports regarding the FSU QB Winston, the Vegas Sportsbooks have been reluctant to post their latest odds on the game, but will likely be available before kickoff. Then the Notre Dame team is seeking relief from the fact that in the past the NCAA Top 5 opponents have been their doomsday. As in the last 16 years they have not been successful in those games, and if that's the case FSU would be happy with a win over the 5th ranked team, which could let them regain the No.1 ranking.
Now let's take a look at the team leaders, starting with the Irish QB Golson who has completed 135 of his 216 passes for 1,683 yards and 16 touchdowns. Their RB Folston has had 60 carries for 263 yards and 2 touchdowns, while Receiver Fuller has 35 receptions for 504 yards and 7 touchdowns.
The FSU leaders are QB Winston, who with 1 game less, has completed 126 of his 180 passes for 1,605 yards and 11 touchdowns. RB Williams has had 60 carries for 263 yards and touchdowns, while Receiver Greene has 44 receptions for 683 yards and 3 touchdowns.
Regarding the controversy the FSU Coach Fisher has said on several occasions, and to various sports media, that he expects their QB Winston to play, even as the university has called for a student code of conduct hearing for the ongoing sexual assault investigation in Tallahassee. The Notre Dame Irish who are now 6-0 have given their fans little reason to be doubtful this season, except that sine 1999 they are 1-16 against top 5 teams and that includes 8 losses by at least some 13 points in the games. Presently they are now a Top 5 team, after their win against North Carolina 50-43 last Saturday, and now this Saturday face the FSU team that has won its last Top 5 games, and the Irish are expected to beat Florida State.
The game against FSU is the true first road game for the Irish and 4 of their games have been at home in South Bend, with the other 2 games at neutral sites. While the Seminoles have won at home, and on the road, with a school record of 22 consecutive wins, with 10 consecutive wins at their Doak Campbell Stadium in Tallahassee.
Of FSU's 22 straight victories, their QB Winston has started in 19 of those games and last week he showed off his efficiency as he completed 30 of 36 passes for 317 yards a 3 touchdowns. That, coupled with the fact that FSU has scored 28 of the 29 times they have been in the red-zone this 2014, and that ranks them at 96.6 percent, and second in college football this season.
On the other side, the Notre Dame QB Golson stats are similar, as in his last 17 games he has 16 victories. He is being considered as a Heisman candidate, even as he has recently thrown 4 interceptions in his last three games. The big concern for the Irish this Saturday was their last week's defensive struggles as the allowed North Carolina some 516 yards offensively, which is the most they surrendered into two seasons. The 43 points they allowed in that same game was the most since their loss to Stanford 45-38 back in 2009.
The Seminole and Irish have played 7 times, and they only time they played in Tallahassee, they win the game which was in 2002, with the latest two games being won by FSU.
If you're a football fanatic and bet on college football at a sportsbook, and if this important game for both teams is, not enough to excite you, then stay tuned as we have more coming real soon, so stay connected.