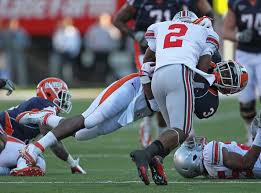 If you like to Bet on College football then you should like this early Saturday, November 16th game with the #3 Ohio State BUCKEYES (9-0, 5-0 1st Big Ten) visiting the Illinois Fighting ILLINI (3-6, 05 5TH Big Ten) with kickoff for the game at 12:00PM ET from the Memorial Stadium in Champaign, Illinois.
Clients of SBG Global sportsbook and the Buckeye fans are excited among this game for the Buckeyes as now all games are so very important as the top NCAA teams shoot for the top BCS and AP Rankings with at most three games left in their season and Ohio State is presently ranked 3rd close behind FSU and Alabama. In their last game the Buckeyes clobbered Purdue 56-0 as the game was televised on the Big Ten Network. This was quite a game for Ohio State as QB Miller threw for four TD's passing for some 233 yards in total on 19 for 23 passes for the game. With this win the Buckeyes continued its record as the nation's longest winning streak of 21 straight games. That loss by the Purdue Boilermakers was one of their worst shutouts in the team's history dating back to 1922 and win that win the Ohio State team has not lost a game in the last 22 months. In the game five different offensive receivers scored touchdowns which alone is an amazing stat. Finally in that game the Buckeye offense generated some 640 offensive yardage ( 345 rushing yards and 295 passing yards) in the game.
For the sportsbook fans of the ILLINI their last game was this last Saturday the 9th of November when they lost a disappointing game to another Big Ten Scholl the Indian Hoosiers 52-35! This was the Hoosier's game as it broke a 3 game losing streak while Illinois with the loss continued its conference school record losing streak to some 19 games. In the game Indiana RB Coleman had 15 rushing downs for 215 yards, a career high and the most for a Hoosier in the last 10 football seasons. He topped it off with a 75 yard run for a TD as the Hoosiers took the lead in the 4th quarter and the Illinois team was unable to reciprocate and score. The Illini passing game was sufficient with their QB Scheelhase throwing for 450 yards on 38 completions of 57 passes and 2 TD's. Their running game left a lot to be desired and to beat Ohio State they sure need to get their offensive really clicking big time. Good luck for both teams in this Big Ten game Saturday!