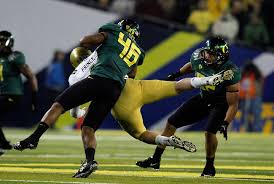 This Saturday for Sportsbook fans who love to Bet on College Football we have an exciting matchup with the # 12 ranked UCLA Bruins (5-1) visiting the #3 Oregon Ducks (7-0) in the famous Valley Willamette at Eugene Oregon with game time at 7PM (4PM Pacific), and the Ducks will be very interested in having an impressive victory after the BCS dropped them from No. 2 to No. 3 although they rank #2 in the so-called human voting polls.

In the last week's game for the UCLA Bruins they had their 1st loss of the season to Stanford 10-24 and were the visiting team, and unable to cover the 4 point underdog status that the Offshore Betting industry had allowed them. They are very hopeful that the team can rebound against another top ten team after that loss to Stanford. It was Stanfords strong defense that beat UCLA and the loss kept them out of the elite top ten for college football no they have to prepare for the mighty Ducks.

Unfortunately in this game against Stanford, the Bruins lost to injuries a starting linebacker and two offensive tackles, resulting with their offense being sacked some four times during the game, with freshman replacements. The team thus had only 74 rushing yards on offense. Their hyped star of the game QB Hundley was mentioned as a Heisman trophy candidate until he threw two interceptions, even as he had 39 passes for a total 192 yards. To date he has scored three rushing TD's and thrown for another 13 TD's with a completion rate of 66.8 %. Before the Stanford game the Bruins in the 3rd quarter had managed to outscore their opponents 74-14 in the 3rd Quarter of each game.

On the other side the Oregon Ducks in their last week's game with Washington State in Eugene were the winners with the 62-38 high scoring game against the Cougars and this week at Autzen Stadium they entertain the ESPN College Game Day and to date the Ducks have not had the opportunity to take on a top rated team like UCLA. One of the main reasons for Oregons success this season is the overlooked defense which played an excellent game against Washington State last week.

So Sportsbook fans seeking to Bet on College NCAA FB the early line have Oregon favored at -22 ½ and predictions on the game have the final score at Oregon DUCKS 43 & UCLA BRUINS 35!