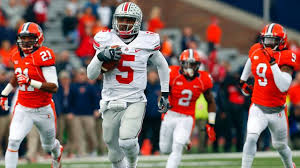 If you Bet on College football at a local Sportbook or an Offshore sportbook you will be interested in this upcoming game between the visiting Indiana HOOSIERS (4-6, 2-4 4th Big Ten) taking on rival # 3 Ohio State BUCKEYES (10-0, 6-0 1st Big Ten) with a 3:30 kick-off scheduled for 3:30pm ET Saturday, November 23rd and the game is played at the OHIO Stadium at 411 Woody Hayes Drive, Columbus, Ohio.
The Indiana Hoosiers have a tough task this Saturday at Ohio Stadium as the Buckeyes are in the Trek for the National Championship and extending their winning streak to 23 games. This past weekend the Buckeyes crushed the Illinois Illini 60-35 and most say the game was really not that close of a game. To have a shot at the BCS their Coach Myers insists they have to win with style. Ohio State currently has the 4th ranked rushing offense with an average of 315.1 yards in each game this 2013 season. At the same time the Buckeyes defense has been a scoring machine ranked presently 18th and overall defense is only allowing the opponents 18.6 points each game. As it stands it may be impossible for Ohio State to make it to the National Title playoff but they certainly are on the road to the Big Ten Championship.
If the Indiana team is to stay in the ballpark with the Buckeyes this Saturday they need to step up their defensive efforts. The Coach is doing a decent job but they have a long way to go if they want to continue to compete in the Big Ten as they presently are hosting one of the worst defenses in the country as they are allowing the opponents some 38.7 points per game and the last game was a disaster as they were beaten by the Wisconsin Badgers another Big Ten Rival 51-3. The overall improvements Indiana has made this season has been impressive under Coach Wilson but they badly need some fresh defensive talent. It appears that the opening line the Sportbook has Ohio State favored by 33 and the Buckeyes will more than likely win on the scoreboard, but Hoosiers offense will score against Ohio state and can keep in close enough to cover with the +33 points on Saturday.
This is a big game for both of these Big Ten Rivals and the point spread on the game makes it very interesting for the casual wagering fans and it should be an exciting game. Good Luck to the Hoosiers and the Buckeyes!