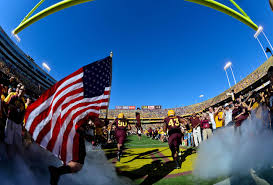 Thursday night October 31st NCAA Football odds are available at SBG Global for the game between the Arizona State SUN DEVILS (5-2, 1st PAC 12 South Division) visiting the Washington State COUGARS (4-4, 5th PAC 12 North Division) with kickoff at 10:30PM at Martin Stadium in Pullman, Washington for Halloween!

The Sportsbook odds naturally favor the Sun Devils in this matchup and if you Bet on College Football take note that Arizona State has averaged 45.4 points in 7 games this season and for those same games gave up some 26.7 points to the opponents each game. This season they have only played two away games thus far and in those games averaged some 31 points for each game and allowed the opponents in those same games some 38.5 points each game. It appears that the Sun Devils have a team that could be BCS ranked at least in home games, the problem is they have been having problems playing the Road Games. For this team to prove they stepped up they have to win this game against the Cougars then a win at Utah and UCLA , one or both.

The last game the Cougars played with the Oregon Duck last is a game they don't care to remember but they do want to remember as WSU QB Halliday set a Pac-12 record with his completion of 59 of the total 89 thrown and the 557 yards set a WSU record. This past week has been an off week and the team has been practicing to improve their play so they may win two more home games to qualify for a bowl game and prepare for the last four games of their season. Since QB Halliday is sporting some injuries, it just may be that they will give back up QB Apodaca an opportunity to start. That is a difficult decision since WSU's game plan is very much a passing game since they rank last in rushing offense per game. WSU is seeking to reestablish their defense as they played in their 1st 3 games and were 3-1 and pass defense was strong. In the last games they have given up 560 yards with Stanford, 585 in California, 598 to Oregon State and 718 yards with Oregon all of which are ranked teams. The Cougars have made some good improvements and the offense is hyped up with a fast paced passing offense under 2nd year head Coach Mike Leach. The defense has developed a couple of players who have the potential of changing the pace of a game and that just may happen on that Halloween evening at Pullman. Good luck Sun Devils and Cougars.