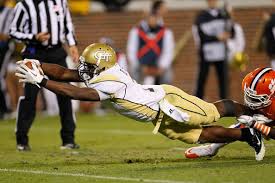 The Sportsbook fans who are wagering on NCAA FB at SBG Global have an interesting game coming their way this Thursday Nov.14th Week # 12 of NCAA Football as the Georgia Tech YELLOW JACKETS (6-3, 5-2 2nd ACC Coastal- Ramblingwreck.com) who are visiting the #7 Clemson TIGERS (8-1, 6-1 2nd ACC Atlantic with a rivalry that dates back to when the teams first met back in 1983 and have played each year since then. If you are one to Bet on College football the kickoff for this game is at 7:30 PM ET from the Memorial Stadium in Clemson, South Carolina!
According to the information at the Sportsbook both of these rivals had an off week this past week so they had more time to prepare for this important ACC Conference game.
The visiting Yellow Jackets played their last week's game on November 2nd against Pittsburgh which they won 21-10. This was the third straight win for Georgia Tech as their defense kept the pressure on QB Savage but still was able to complete 25 passes of 37 thrown for some 233 yards and a TD. On the drive in which Pitt scored Savage hit all four passes. For Pitt they had a total of 228 (rushing -5 passing 233) yards total offense while Georgia Tech had 360 (276 rushing passing 84) yards total offense. Crazy game as Pitt made most their gains passing while the Yellow Jackets had the most yardage rushing! In this game the Tech QB Lee completed a total of 5 passes in 10 attempts for the 84 yards they gained passing the ball. Georgia Tech won this game but if they intend on staying in the game against Clemson they will have to improve their passing game and beef up their air defense otherwise Clemson will roll past them.
For the South Carolina fans who Bet on College football their #7 Clemson team has only one loss this season and that was an embarrassing loss to # 2 Florida State Seminoles 51-14. But looking back Clemson should linger on that loss as FSU has scored a lot of points in all of their games this season. In Clemson's last game they also scored a lot of points as they beat Virginia and the Clemson QB Boyd passed Philip Rivers for the most Touchdowns in Atlantic Coast Conference history with the three TD's passes he threw in this game with Virginia for a total of 116 Clemson career touchdowns, 23 rushing and 93 passing. As mentioned earlier if Gerogia Tech is to survive this game they will certainly have to show improvement in their "Air Defense- No Fly Zone." Good luck to both of these ACC Contenders.