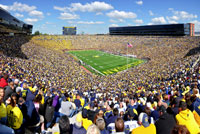 As the 2015 NCAA Football Regular Season Wk# 4 begins, we are previewing an interesting game between the No. 22 Cougars of BYU playing at the Wolverines of Michigan with the game being played on Saturday the 26th of September, at the Michigan Stadium in Ann Arbor, Michigan with kick-off scheduled for 12:05 PM ET and can be seen on ABC TV.
If you Bet on College football at a sportsbook, the opening odds at SBG have the Wolverines favored at -5 ½ with the Over/under at 45 ½ and -185 on the Money Line, with BYU the underdogs at +5 ½ and +165 on ML. The Wolverines under new Coach Harbaugh lost their opening game to Utah 24-17 but won their next 2 games beating Oregon State 35-7 and last week beating UNLV 28-7, and this week they play their 1st ranked team in the No. 22 Cougars of BYU who are also 2-1 winning their 1st two game beat Nebraska 33-28, then Boise State 35-24 and last weekend lost a close one to the Bruins of UCLA 24-23.
If you're a fan who may bet on the Cougars of BYU, you know your QB T. Mangum had a great 1st -2 games passing for late TD's to win the games, but in their last game he had a late pass intercepted on the Cougars 4th down resulting in a loss 24-23 to the Bruins of UCLA. That's unfortunate as QB Mangum has played well to date passing for 4 TD's and 665 yards and has a 64% passing rate, and now comes up against a very strong pass defense from the Wolverines of Michigan who to date have held their opponents to completing only an average of 143 yard passing each of their 1st 3 games.
Thus BYU may decide to counter attack running the ball to take pressure off their freshman QB Mangum. That's because their senior RB A. Hine in his last 2 games has scored 2 TD's and rushed for over 244 yards.
BYU will attempt to limit the Wolverine offense with strong pass rush with LB H. Langi leading the pack with his 3 QB sacks to date. That pressure should force Michigan QB J. Rudock into making questionable passing decisions, since this season he has thrown 5 interceptions. The Cougars junior safety K. Nacua this season to date has 3 interceptions.
For the fans of the Wolverines of Michigan, your new Coach Harbaugh has confirmed the starting QB remains to be J. Rudock, but QB Rudock has a fault, he has thrown more interceptions than he has TD's, with 5 intercepts and 3 TD's to date. That has been offset by 2 strong RB's in the Michigan backfield. RB D. Smith this season has rushed for 3 TD's and 210 yards with all 3 TD's scored in their week 2 win over the Beavers of Oregon State. In their week 3 games their RB T. Isaac stepped up and with 8 carries for 115 yards on the ground and scored a TD. This RB duo should be able to break through the defense of BYU which is ranked 74th in the league this season as the allowed 164 yards rushing each game. If Michigan can deploy their running game, that should limit the time on the field offensively for BYU QB Mangum.
The two options for the Michigan is 1st to use their running game to take time of the game clock, and 2nd their strong defense could also limit the BYU time on the field offensively. The Wolverines defensively have a very tough front seven that should stop the Cougars running game, as Michigan in the FBS ranks 14th in rushing defense, as this season they have allowed opponents only 92 yards rushing per game on average. The Wolverines in their last 5 games at home have won 4 of those games.
The prediction for this game is that once again the Michigan QB Rudock struggles and the BYU Cougars become victorious in the game.