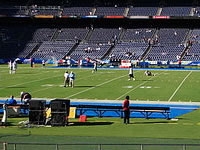 With the 2015 NCAA Football regular season kicking off on Thursday the 3rd of Sept. 2015 we choose to preview a game that will be played on Saturday the 5th of September 2015 between the Sun Devils of Arizona State playing the Aggies of Texas A&M with the game to be played at 7:05 PM ET at the NFG Stadium in Houston, Texas. For your information the NFL Stadium is a neutral field. The opening Vegas odds has the Aggies of A&M favored at -3 with the Over/under at 66 ½ and the underdog Sun Devils at +3, with no early Money Lines offered.
The Sun Devils are expecting big things this season with senior QB M. Bercovici finally leading the preseason No. 15 Sun Devils of ASU. The 1st game will be a good test as they travel to Houston to play the Aggies of Texas A&M who also should have an awesome team.
For the College football fans that Bet on College football at SBG Global and are fans of the Sun Devils and dare to bet on same, your team has 2 consecutive 10 win seasons under the helm of head coach T. Graham, and after QB Bercovici had a great 2014 season, bit thing s look promising for this 2015 season.
Actually, QB Bercovici took over for QB Kelly who left the roster due to injury, and took the lead with 3 games left, the toughest with UCLA Bruins, USC Trojans and Stanford Cardinals. QB Bercovici had a great game against the Bruins even as it was a big loss then threw for 512 yards and 5 TD's to beat USC 38-34 and then beat Stanford as QB Bercovici completed near to 70% of his pass attempts. The offense back field, in addition to their QB has RB & WR in Foster who last season had 12 TD's playing both positions and a total of 1,770 offensive yardage. He will be accompanied by transfer D. Lucien, and the Sun Devils offense expect to make yardage against the Aggie defense that allowed opponents some 451 yards each game, and that ranked last in the SEC in 2014.
The Sun Devil defense after losing several key players, expect to still be able to blitz the opponent QB K. Allen of the Aggies, and the roster has a deep seven in the back field with a lot of experience, who will key on slowing Aggie receivers in this 1st game of the season for both teams.
For the fans of the Aggies of Texas A&M you remember that in 2014 your team started at 5-0, but suddenly got derailed and in their ultimate 6 games they had 3 wins and 3 losses and finished the season with 8 wins and 5 losses.
QB K. Allen replaced QB Hill in the Aggies last 5 games, and displayed some talent while completing 19 of 29 passes for some 278 yards a 4 TD's, and in his 2nd start beat the Tigers of Auburn on the road 41-38, and in the Liberty Bowl they beat West Virginia 45-37 as he passed for 4 TD's and 295 total yards in the game as a freshman.
QB Allen now a sophomore will be the starter, and will be accompanied by a deep talented receiver roster, with 4 of 5 starters returning this season. WR J. Reynolds a junior let the Aggies with 13 TD's a school record, while amassing some 842 yards. All SEC fans are aware that the Aggie offense can score against their opponents as last season the averaged 35.4 points per game, and that ranked 5th in the SEC, and that was lower than the previous 2 years, when they averaged some 45 points each game.
The Aggie fans are hoping that this season their team will have a defense that can complement their scoring offense. With a new DC in former LSU defensive coordinator J. Chavis and his defense this season will be lead by M. Garrett a pass rusher who set a freshman record for a season with most sacks at 11.5. They expect Garret to create havoc with the Sun Devils offensive line, who are starting 2 first time tackles.
The prediction is that the Aggies defense is still not up to par with its offense, thus the Sun Devils of ASU upset the Texas A&M squad 42 to 35 in this 1st game of their seasons.