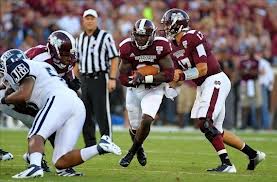 If you wager at SBG Global it will be interesting to see if the opening line favoring the visiting Alabama CRIMSON TIDE (9-0, 6-0 1st SEC West) at -24 ½ as they visit the Mississippi State BULLDOGS (4-5, 1-4 6th SEC West) with this SEC matchup kicking-off at 7:45PM ET and the game is being played at Scott Field at the Davis Wade Stadium located in Starkville, Mississippi with a seating capacity of 55,000.
In their last game the Bulldogs lost a tough one to the Texas A&M Aggies 41-51 as Manziel threw for a career high five TD's amassing some 446 yards in the win over Mississippi State in the game at College Station, Texas in the Aggies last home game of the 2013 season. In this game QB Manziel set a new school record with 9,040 total yards and the single season record of 31 TDs passing and his the first A&M player to complete two seasons with over 3,000 yards passing. Mississippi State pulled to within ten points with at TD toss to Russell with some 2:19 remaining then attempted an onside kick but The Aggies recovered which basically was the end of the game. Now the Bulldogs this Saturday faces a difficult task as they take on the #1 Alabama at at home if that's any help.
Alabama on the other hand after they got through the first half showed its punching power and beat the LSU Tigers last Saturday night in Tuscaloosa 38-17 scoring that last points in very difficult fashion for LSU. The Bama QB McCarron managed to throw three TD passes and RB Yeldon ran for two touchdowns on 18 carries in the second half alone. Coach Saban said we did not play well in the 1st half, but in the 2nd half may have been our best half of football this season. In this game McCarron with the yardage he amassed passing in this game, he became Alabama's leading career passer. Incredible LSU had won five of the last six games they played against Alabama in Tuscaloosa and in this game they managed to fumble the ball on two occasions and one on those on the goal line and the lost possession on both fumbles.
Alabama scored the most points in this game against LSU then they scored in any of their other matchups dating back to 1947! Good Luck Bulldogs taking in the incredible Crimson Tide this Saturday!