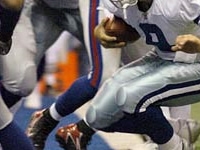 Because of the new NCAA Playoffs System, this year's college football experience is likely to be very different from previous seasons. From futures odds, to weekly matchups, everything has changed with the four-team playoffs.
The usual excitement is present, as fans seek their favorite tailgate locations, and NCAA stars like Nick Marshall and Jameis Winston return to the playing field for the first time since January of 2014. It's really an exhilarating period when all the prediction and media conferences are overtaken by actual end runs, passes, punts and field goals.
This 2014 NCAA FB season has an elevated feeling with a bit of trepidation with the main reason being the new College Football Playoff seems to enter most discussions of the 2014 season with coaches, players, alumni and fans starting to become familiar with this new playoff system which is the most significant change to take place in the last 16 years since the start of the BCS.
Many fans were and some still are skeptical of the new system of four-team playoffs as they are not sure the system was broken and needed repair. Since all the information and debates have aired most now think it very exciting and most now feel it will allow for a champion to be decided on the football field, and that's what most involved in the sport were seeking and with the expected teams like Florida State, Alabama and Oklahoma and others will be competing in this playoff race to secure a spot in the first Final Four and it still has not become clear to many as of this date.
Still many of those participating and fans are still thinking this new playoff system can have problems and maybe that's because the same people that were not able to improve the BCS are in charge of this new playoff system. Or, that it seems impossible to merger the teams from the five major conferences into the upcoming four playoff spots. While some are concerned that the 13 member voting panel who select the teams that get in may not necessarily be the teams playing at the highest level because of opinions regarding schedule strengths.
As a result of that feeling and concern college coaches started politicking during the summer months to explain to those committee members how difficult it is to play 8 to ten conference games and a championship game in the same season.
All the politicking and posturing is now to be overtaken by playing college football this weekend. Thus since early season intersectional games have formed conference perception which could be changes with the committees emphasis on schedule NCAA Playoffs strengths.
The early season games with FSU versus Oklahoma State, LSU at Wisconsin, Georgia at Clemson and Alabama at West Virginia are the style of games that NCAA Playoffs hopefuls will begin to construct their cases.
Thus, now the long road to New Orleans and Pasadena seems to be far away and the thrill of this new playoff era may not be felt until we are in front of a TV or in the Stadium to either watch the No.1 play the No.4 or the No.2 play the No.3 which would be a history first for NCAA Football. This should bring about some three month of lobbying and drama.